WWE Extreme Rules: Daniel Bryan uses flame-riddled table to defeat Kane in New Jersey
Seth Rollins catches the eye as The Shield overcome Evolution
Last Updated: 08/05/14 11:37am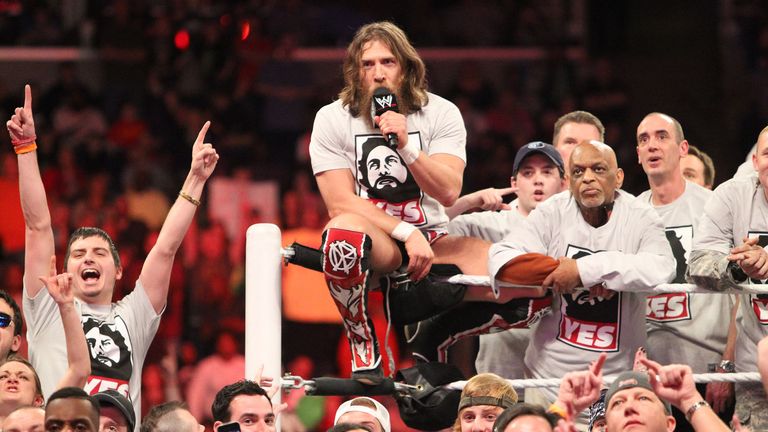 The Submission Specialist had been tormented by The Big Red Monster for weeks - being Tombstone Piledriven into the steel ring steps was a particular lowlight - but beat his adversary and retained his belt in New Jersey on Sunday night.
Bryan attacked Kane before the bell to start their match had been rung, and proceeded to batter him with a kendo stick as the action spilled from the ring and out into the Izod Center's parking lot.
The Washington native then whacked the Devil's Favourite Demon with a wrench, causing him to fall onto the front of a forklift truck - and Bryan then drove said forklift truck back towards the squared circle and dumped Kane's body onto the canvas.
The bearded Superstar was unable to defeat his larger rival with a diving headbutt at that point, but when Kane covered a table in petrol and set it alight, he took advantage in spectacular fashion.
Bryan's swift movement bewitched the man in the mask, seeing the veteran tumble into the table, and when Kane stumbled back into the ring after being treated by officials with fire extinguishers, he was floored by the running knee.
Elsewhere, The Shield's Dean Ambrose, Seth Rollins and Roman Reigns vanquished Evolution in a stunning duel which, like the Bryan-Kane encounter, did not remain within the confines of the ring ropes.
Evolution dominated much of the match but when Ambrose, Rollins, Triple H and Randy Orton headed into the WWE Universe as legal competitors Reigns and Batista lay stricken, the tide turned.
Rollins launched into a death-defying dive off the balcony onto The Game and The Viper as they targeted Ambrose, and whilst the fans gawped, Reigns and Batista came to their senses and went to war.
The Animal felled the Shield's muscle with a spinebuster, but Reigns then countered a Batista Bomb and subsequently cracked the six-time world champion with a Superman punch and a spear.
Elsewhere, Bray Wyatt beat John Cena in a Steel Cage dust-up - but only after The Cenation Leader had been disturbed by a child singing "He's Got the Whole World in his Hands" as he attempted to exit the metal structure via the door.
Meanwhile, on a good evening for the Brits, Bad News Barrett scooped Big E's Intercontinental Championship and Divas Titlist Paige retained her garland with victory over Tamina Snuka.
Alexander Rusev decimated Xavier Woods and R-Truth in a two-on-one handicap match - after his social ambassador, Lana, had professed her respect for Russian President Vladimir Putin - while Cesaro edged Rob Van Dam and Jack Swagger in a Triple Threat bout.
Plus, on the Extreme Rules pre-show, El Torito got the better of Hornswoggle in a WeeLC contest, with the friend of Los Matadores sending his opponent thundering into a table for the win.
Booking details
WWE Extreme Rules will be repeated on Sky Sports Box Office (channel 743) BUT NOT Sky Sports HD Box Office (channel 752) between 9am on Monday, May 5 and 9pm on Saturday, May 10.
Repeat showings will last for three hours, with final showing BEGINNING at 9pm on Saturday May 10.
The event is priced at £14.95 for UK customers, €21.95 for viewers in the Republic of Ireland.
You can order WWE Extreme Rules by pressing the Box Office button on your remote. Select 'sports & events' and follow the on-screen instructions.
Viewers can call 08442 410 888 to book WWE Extreme Rules. (There may be an additional charge for telephone bookings).
You can also book WWE Extreme Rules online by visiting this link: https://my.sky.com/orderboxoffice/
Cable customers should contact their local cable operator.