WWE Raw: Roman Reigns and John Cena qualify for Money in the Bank Ladder Match
Cody Rhodes adopts glittery new persona...
Last Updated: 17/06/14 4:50pm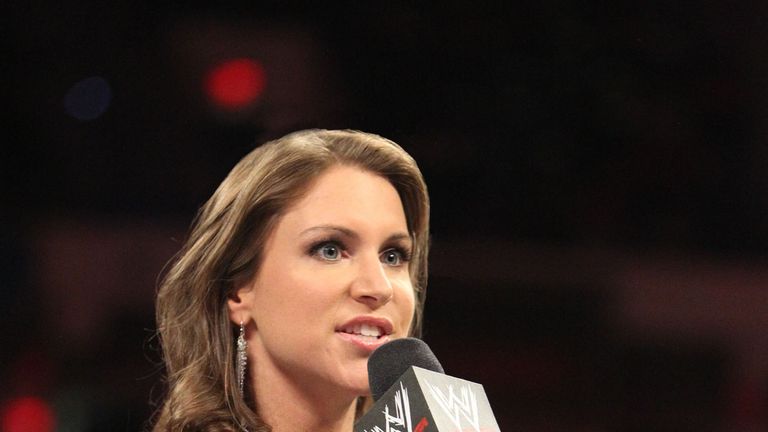 The Authority was left feeling sick on Monday Night Raw - in more ways than one.
Not only did Stephanie McMahon project the contents of her stomach over Vickie Guerrero, but she and her husband, Triple H, also saw two men they thoroughly dislike qualify for Money in the Bank.
Things started brightly enough for the power couple when they assembled the entire roster on the stage to discuss the impending WWE World Heavyweight Title Ladder Match - and who wouldn't be in it.
McMahon and The Game explained that due to acts of "rebellion" Shield members Roman Reigns and Dean Ambrose would be prohibited from entering the title tussle on June 29, and that John Cena would have to beat Kane in Raw's first Stretcher Match in 10 years in order to capture a place.
MONEY IN THE BANK
1am, Sun, June 29 (Mon)
Live on Sky Sports Box Office
The Authority's glee was tangible - but that soon changed.
Reigns poisoned McMahon's coffee backstage, which led to the Billion Dollar Princess taking a turn for the worse and Guerrero seizing responsibility of Raw while Triple H attended to his wife.
Sensing an opportunity, Reigns goaded a flustered and vomit-covered Guerrero into entering him into the Money in the Bank Qualifying Battle Royal later in the show - which The Shield powerhouse won by lastly eliminating Rusev.
Clashed
That result would have left The Authority seething and they were dealt another blow when Cena conquered Kane in a bout that Randy Orton, Seth Rollins and Ambrose felt obliged to show their faces in.
Rollins and Ambrose clashed earlier in the evening, too, cranking up a rivalry which began when the former whacked the latter with a steel chair the night after Payback.
Rollins cost his onetime ally in his Money in the Bank qualifying match against Bray Wyatt on Friday's episode of Smackdown and The Lunatic Fringe responded on the red brand by attacking his former "brother" and chasing him into the crowd.
Wyatt, meanwhile, lost to Sheamus via disqualification after his Wyatt Family pals, Luke Harper and Erick Rowan, ganged up on the Celtic Warrior, plus Divas Champion Page defeated Cameron with the PTO.
The Raw audience also witnessed a Hollywood actor become a Rosebud, a rock-music lover splattered by a Bulgarian Brute, and Goldust band with a new - or is that old? - tag team partner.
Kevin Hart, star of Think Like a Man Too, joined Adam Rose's Exotic Express - much to the chagrin of JBL - after the partygoer and Summer Rae had seen off Fandango and Layla, while Rusev crushed Heath Slater.
But perhaps the most memorable moment from Raw was when Cody Rhodes - who promised that Goldust's new companion would "magnify The Bizarre One's magnificence" - transformed into Stardust and helped his brother overcome RybAxel.