WWE Smackdown: Roman Reigns lays down marker ahead of Money in the Bank
Ex-Shield man Spears Alberto Del Rio in main event tag bout
Last Updated: 23/06/14 3:03pm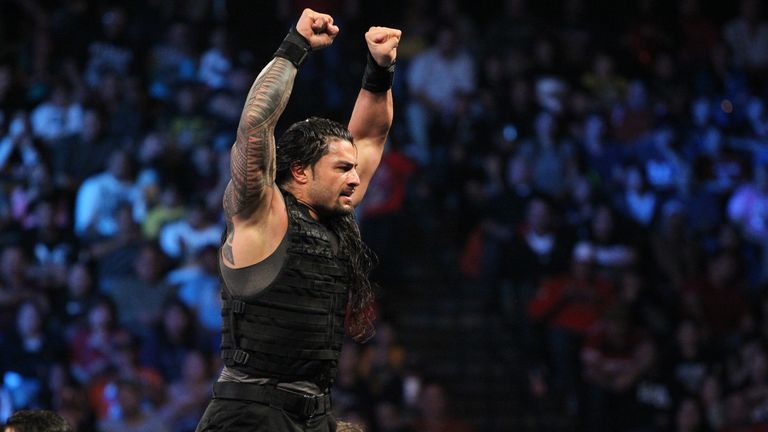 That was the question on everybody's lips after the former Shield powerhouse qualified for the Money in the Bank Ladder Match on Monday Night Raw with victory in a Battle Royal.
And if Reigns' performance on Friday's edition of Smackdown is anything to go by, the answer to that question could very well be "Yes". The big man, you see, is on a roll...
The Juggernaut teamed with John Cena and Sheamus to take on Randy Orton, Alberto Del Rio, Cesaro and Bray Wyatt in a four-on-three handicap match featuring each competitor in the Money in the Bank title tussle.
And Reigns - who had brawled with Orton at the start of the show - had the spotlight firmly planted on him at Smackdown's end after spearing Del Rio to pick up the win for his trio.
CLICK HERE TO ORDER WWE MONEY IN THE BANK
Elsewhere, Reigns' ex-Shield stablemates Dean Ambrose and Seth Rollins continued their war - but it was the latter who had the last laugh in Columbus.
Rollins defeated Kofi Kingston in Smackdown's opening bout with the Curb Stomp and then hit Ambrose with the exact same manoeuvre later on after helping Kane defeat The Lunatic Fringe.
Clash
Authority ally Rollins will compete in the traditional Money in the Bank Ladder Match on June 29 - the one in which a contract for a guaranteed title shot hovers above the ring in a briefcase - and two other men are hoping to join him.
Dolph Ziggler and Bad News Barrett - whose attempts to qualify for the WWE World Heavyweight Title Money in the Bank Ladder Match were crushed by Del Rio and Sheamus respectively - announced they wanted in prior to their clash on Smackdown.
But it was perhaps The Show-Off who left a greater impression on the WWE decision makers by pinning Barrett, though he was left seeing stars moments later when the Brit clobbered him with a post-match Bull Hammer.
Fandango's complicated love life, meanwhile, came back to haunt him on Friday as he lost to the undefeated Bo Dallas when Summer Rae and Layla's catfight spilled out of control.
The ballroom enthusiast kissed Rae backstage whilst his current partner Layla, unbeknownst to the smooching pair, watched on despairingly and burst into tears.
The Londoner swiftly went from upset to angry, though, and as she grappled with Rae at ringside during Fandango's match, she accidently booted her boyfriend, allowing Dallas to administer the Running Bo-Dog.
Plus, Adam Rose saw off Titus O'Neil - and then did so again moments later after the former Prime Time Player claimed he wasn't ready - and Big E vanquished Jack Swagger.
Money in the Bank booking details
WWE Money in the Bank will be shown on Sky Sports Box Office (channel 743) and Sky Sports HD Box Office (channel 752) at 1am on Sunday, June 29 (Monday morning).
WWE Money in the Bank will be repeated on Sky Sports Box Office (channel 743) BUT NOT Sky Sports HD Box Office (channel 752) between 9am, Monday, June 30 and 9pm, Saturday, July 5.
Repeats showing will last for three hours, with the final showing BEGINNING at 9pm on Saturday, July 5.
The event is priced at £14.95 for UK customers, €21.95 for customers in the Republic of Ireland.
Viewers can call 08442 410 888 from Tuesday, June 17 to book WWE Money in the Bank. (There may be an additional charge for telephone bookings).
You can book WWE Money in the Bank online from Tuesday, June 17 by visiting this link: https://my.sky.com/orderboxoffice/
You will be able to order WWE Money in the Bank at a later date by pressing the Box Office button on your remote. Select 'sports & events' and follow the on-screen instructions.
Cable customers should contact their local cable operator.