WWE Main Event: Seth Rollins, Jack Swagger and Bad News Barrett victorious
Winning trio whack rivals with a ladder at the end of Tuesday's match
Last Updated: 25/06/14 1:49pm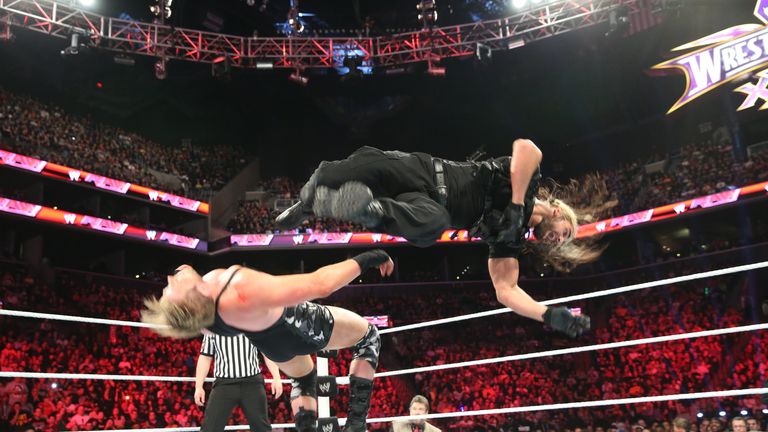 Seth Rollins, Jack Swagger and Bad News Barrett will be rivals on Sunday – but they teamed up to great effect on Tuesday's edition of WWE Main Event.
The talented trio battled fellow Money in the Bank opponents Dolph Ziggler, Kofi Kingston and Rob Van Dam in Pittsburgh, and picked up the victory after a hard-fought tag-team tussle.
Ziggler's troop, very much the fan favourites, took control of the match late on, but Rollins managed to hit Kingston with the Curb Stomp and collect the pinfall.
CLICK HERE TO ORDER WWE MONEY IN THE BANK
Rollins and his pals weren't finished, though, and proceeded to attack Ziggler, Kingston and Van Dam with a ladder, the weapon each man – and Dean Ambrose – will be hoping to scale on Sunday before plucking the Money in the Bank briefcase.
WWE MONEY IN THE BANK
1am, Sunday (Mon)
Live on Sky Sports Box Office
Inside aforementioned briefcase is a contract for guaranteed WWE World Heavyweight Title shot – but, of course, that strap remains vacant after it was stripped from neck-surgery victim Daniel Bryan.
That will change on Sunday, however, when one of Roman Reigns, John Cena, Randy Orton, Kane, Cesaro, Sheamus, Bray Wyatt and Alberto Del Rio retrieves the belt in Money in the Bank's showpiece Ladder Match.
Duel
Reigns vowed that he would become champion during an interview with Renee Young on Main Event, though he was quickly informed by WWE Chief Operating Officer Triple H that he must first combat Kane on Friday's edition of Smackdown.
RybAxel, meanwhile, downed the tandem of R-Truth and Xavier Woods on Tuesday evening – Curtis Axel striking the decisive blow – and then challenged the glittering combination of Stardust and Goldust to a duel at Money in the Bank.
Plus, the car crash that is Fandango's romantic life came back to haunt him again as he lost to Bo Dallas for the second time in a week, a result which enlarged Dallas' winning streak to 10-0.
The twinkle-toed Superstar saw Summer Rae leap into his arms before he could lock horns with the former NXT regular, but then witnessed the the other woman vying for his affection, Layla, respond by brawling with Rae on the entrance ramp.
And with Fandango's eyes diverted towards the scuffle, he was caught out by Dallas, who administered the Running Bo-Dog to take his number of victories since debuting into double digits.
Money in the Bank booking details
WWE Money in the Bank will be shown on Sky Sports Box Office (channel 743) and Sky Sports HD Box Office (channel 752) at 1am on Sunday, June 29 (Monday morning).
WWE Money in the Bank will be repeated on Sky Sports Box Office (channel 743) BUT NOT Sky Sports HD Box Office (channel 752) between 9am, Monday, June 30 and 9pm, Saturday, July 5.
Repeats showing will last for three hours, with the final showing BEGINNING at 9pm on Saturday, July 5.
The event is priced at £14.95 for UK customers, €21.95 for customers in the Republic of Ireland.
Viewers can call 08442 410 888 from Tuesday, June 17 to book WWE Money in the Bank. (There may be an additional charge for telephone bookings).
You can book WWE Money in the Bank online from Tuesday, June 17  by visiting this link: https://my.sky.com/orderboxoffice/
You will be able to order WWE Money in the Bank at a later date by pressing the Box Office button on your remote. Select 'sports & events' and follow the on-screen instructions.
Cable customers should contact their local cable operator.