WWE Main Event: Dolph Ziggler pins Cesaro; Luke Harper and Erick Rowan pick up win
Nikki Bella beaten after being left high and dry by Alicia Fox
Last Updated: 02/07/14 3:58pm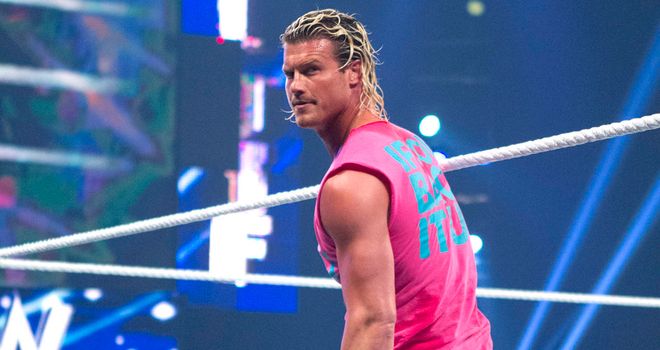 Dolph Ziggler had the last word on WWE Main Event during a match featuring six men who will fight for the Intercontinental Championship at Battleground.
The Show-Off teamed with Rob Van Dam and Big E to tackle RybAxel and an eye-patched Cesaro on Tuesday night and collected the victory for his squad with a perfectly-timed Zig Zag on the King of Swing.
Ziggler and his peers had taken to the ring at the beginning of Main Event, too, with each explaining why they would be the man to beat at Battleground in the Battle Royal for the Intercontinental Title, which will take place following the shoulder injury to previous belt holder Bad News Barrett.
However, one-time Intercontinental Champion Ziggler, Cesaro – whose facial accessory was needed after he scratched his eye in a clash with Kofi Kingston on Raw – RVD, Ryback, Curtis Axel and Big E must combat a man who likes to dress up, a giant, a Wildcat and Mexico's Greatest Export if they are to nab gold in Florida's Tampa Bay Times Forum on Sunday, July 20.
Damien Sandow – whose latest dip into his box of costumes led to him masquerading as Vince McMahon – The Great Khali and Kingston were added into the Battle Royal on Raw, with Alberto Del Rio named in the bout 24 hours later, but many more competitors are sure to be announced over the coming weeks.
Elsewhere on Main Event, which took place in Newark, New Jersey, Luke Harper and Erick Rowan – who came up short in their WWE Tag Team Title tussle with The Usos at Money in the Bank – dispatched R-Truth and Xavier Woods.
Plus, Nikki Bella was ditched and attacked by partner Alicia Fox en route to losing to The Funkadactyls, who appear to have put their dissension on Raw behind them.
Watch WWE Battleground at 1am on Sunday, July 20 (Monday morning) on Sky Sports Box Office or Sky Sports HD Box Office.