Fergal Devitt signs for World Wrestling Entertainment and will report to NXT division
Much-travelled Irishman says deal is 'a dream come true'
Last Updated: 28/07/14 5:13pm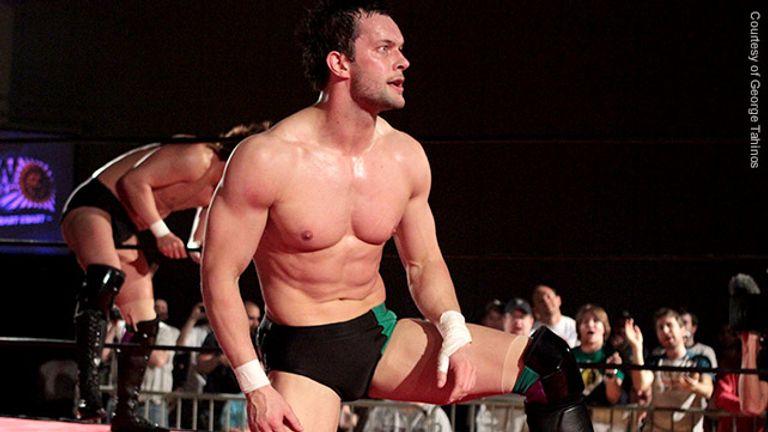 Irish wrestler Fergal Devitt has penned a contract with WWE and reported to the NXT division.
The County Wicklow-born Superstar previously starred in New Japan Pro Wrestling, seizing the IWGP Junior Heavyweight Championship three times and holding the IWGP Junior Heavyweight Tag Team Championship on six occasions.
And the 33-year-old, who also won the Best of the Super Juniors Tournament twice, in 2010 and 2013, during his time in the Far East, cannot wait to unleash and develop his skills in WWE.
"This is something I've been looking forward to since I was maybe four or five years old," said Devitt.
I've always got a couple of tricks up my sleeve, so I'm going to come up with something new. Look out for a light-up jacket. Look out for body paint. Look out for a new Devitt.
Devitt on Devitt
"I grew up watching wrestling so to get the chance to step in the ring that I've watched on TV so many times is a dream come true."
"I don't consider myself anywhere close to the finished product, so I'm looking forward to this challenge and learning a new style.
"But [my travels] have helped me and my confidence, both in and out of the ring, and I never feel out of my depth of experience.
"I've been put into a lot of situations that could be stressful, but that's really helped me mature, both as a performer and as a man."
Professionalism
Devitt, who has wrestled on the independent scenes in the United Kingdom and United States, will battle the likes of Adrian Neville, Sami Zayn and Tyler Breeze in NXT.
The grappler should also lock horns with fellow WWE newbie Kenta after the Japanese favourite inked a contract with Vince McMahon's company earlier this month.
Devitt believes WWE's capturing of global competitors, as well as its newly-constructed Performance Center in Orlando, Florida, means the future is bright.
We kinda missed each other, played crisscross, but never had a chance to lock up on the independent circuit, so that'd be something I'd really look forward to.
Devitt on wrestling Sami Zayn
And the former Gaellic footballer, whose countryman Sheamus is already a staple of WWE programming, hopes his future includes a meeting with a certain 15-time world champion.
"I think it's definitely a good thing and the company's obviously looking forward," he said of WWE's worldwide search for talent.
"I've seen a lot of different training schools and dojos, and the sheer level of professionalism at the Performance Center and the state-of-the-art facility just knocked me for a six.
"It really blew me away."
Devitt added: "The target would for me, though, would be John Cena, because if you're wrestling John Cena, you're in the main event."
Watch WWE NXT, every Thursday on Sky Sports.