Show stealer
WWE star Dolph Ziggler talks Chris Jericho, Triple H and why you must not miss Night of Champions.
Last Updated: 12/09/12 10:03am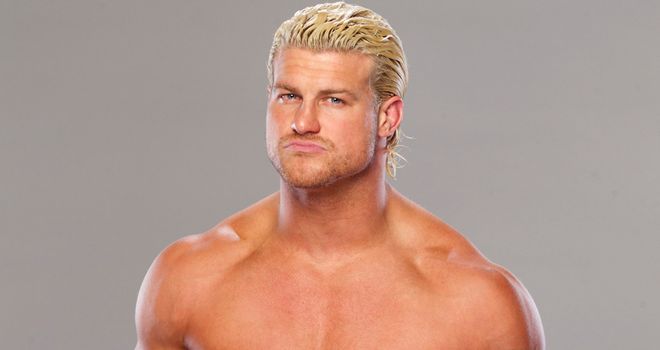 Dolph Ziggler could become World Heavyweight Champion at any given moment.
The Ohio-born grappler won the Money in the Bank briefcase in June and is now in possession of a contract that entitles him to a title match at any time of his choosing.
Ziggler has seen previous attempts to 'cash in' his briefcase scuppered and he remained very coy about when he plans to strike again when interviewed by skysports.com.
However, the former Intercontinental and United States Champion was much more candid when asked about this Sunday's Night of Champions pay-per-view, his recent bouts with Chris Jericho and why he will never rest on his wrestling laurels...
skysports.com: As the Money in the Bank briefcase holder, do you feel like the future of the World Heavyweight Championship lies in your hands? Can you give us an idea of when you may cash in your contract?
DOLPH ZIGGLER: Yeah, I'll give you an idea of when I'm going to cash it in and I'll let my opponent know ahead of time, too! If I do that I might end up looking like John Cena, who cashed his contract in on CM Punk and lost. Winning that briefcase is a big stepping stone for anyone in the WWE these days and the ladder match I won it in was one of the most gruelling matches I have been a part of. It is really cool to know that in a pre-announced match or at the end of another one I could cash in and become World Heavyweight Champion.
skysports.com: What are your plans for this Sunday's Night of Champions pay-per-view?
DZ: I steal the show at every pay-per-view I compete in; I'm so good that I have, on occasion, competed in two matches in the one night. Ever since Randy Orton RKO'd me and cost me the chance to cash in my contract, I have been trying to get a match with him and I will get that match at Night of Champions.
skysports.com: Your T-shirt states: 'It's not showing off if you back it up'. You sound like a confident person but did you always believe you would make it to the WWE?
DZ: I didn't always know as I am not one of the bigger guys and you never know whether injuries will get in your way, but it was always a dream of mine. I have always shown off whether that be in collegiate wrestling, sports entertainment with the WWE or anything else I have ever done; I've always looked great, entertained and had a blast while doing it.
skysports.com: Do you think your best is yet to come?
DZ: Every year I think I am at my peak and then every year I realise that I am still learning. If you ever stop trying to learn in this business and say: 'I'm doing good now, it's time to coast', that will be it for you; there are too many great sports entertainers in the world and too many great stars in the WWE vying for your spot for you to stand still. I am learning every day and trying to be better than everybody else so that I can make people say: 'Wow, that Dolph Ziggler is the greatest Superstar of all time'.
skysports.com: What are your goals for the future?
DZ: I don't say that I want to win a title by a specific date because in the WWE you never know what can happen, so I aim for a certain type of reaction from the crowd, to be in great shape, and to be a main player in the WWE. Tiny goals that I make every day are what will get me to that point.
skysports.com: Did you enjoy your recent series of matches with Chris Jericho?
DZ: It was really exciting for me to get the chance to wrestle Jericho and I really wish I would have had more time in the ring with him; he is a great Superstar and someone I really loved as a fan and still look up to now. I've bounced ideas off him and asked him for his advice and point of view; he has really helped me out a lot.
skysports.com: Which of your fellow WWE Superstars do you consider the most talented?
DZ: That is like asking who the greatest boxer of all time is; there are a lot of guys in the WWE with so many different strengths. John Cena is our franchise player and the guy everybody knows, CM Punk is the up-and-coming star who believes he is the best in the world, while Orton is great on so many levels. There are also other guys who I think are awesome that are just biding their time and waiting for their chance, like Tyson Kidd and Alex Riley, who could become the next big thing.
skysports.com: Triple H has intimated that his in-ring career may be over after his brutal match with Brock Lesnar at SummerSlam. If he never wrestles again, how will you remember him as a performer?
DZ: He is one of the best of all time and he, along with Shawn Michaels and the Undertaker, was involved in some of the coolest and most edge-of-your-seat matches in the last few years; he is the type of guy that the Superstars loved watching. Whether Triple H retires or not, he has left a great legacy in and out of the ring and raised the bar that other Superstars have to aim for.
skysports.com: Which wrestlers do you travel with? What do you like to do with your time off?
DZ: Zack Ryder and I are buddies; we have been on the road together and been on each other's YouTube shows, but I usually travel alone. I work out so hard and give so much of my time to wrestling that on that one day a week that I am off I like to sit around my pool, read a book and relax.
skysports.com: You are a Cleveland Browns fan, how do you assess their chances of success in this season's NFL?
DZ: The Browns are a great fixture of the city of Cleveland and whether they win or lose people want to go and cheer them on. I am hoping for a 9-7 season; right now we are building up some young guys but hopefully - and we've been saying this for 20 years - our rebuilding is over soon and we can become major contenders. Americans love the NFL and that craziness will keep on building all the way up to the Super Bowl when our entire country will be watching.
skysports.com: And finally, tell our readers why they must not miss WWE Night of Champions?
DZ: All of the titles in the WWE are on the line which makes the event more prestigious; you never know what championships are going to be successfully defended and which ones will be won by somebody else, but there are bound to be some changes in the title scene. Plus, while my match with Orton will not be for a title, it is championship-calibre and I will pull out all the stops to make sure I steal the show.
Don't miss WWE Night of Champions, live and exclusive on Sky Box Office at 1am, on Sunday, September 16 (Mon).