Sheamus' Big test
Sheamus discusses his impending clash with the Big Show, Jerry Lawler's heart attack and more...
Last Updated: 15/10/12 4:08pm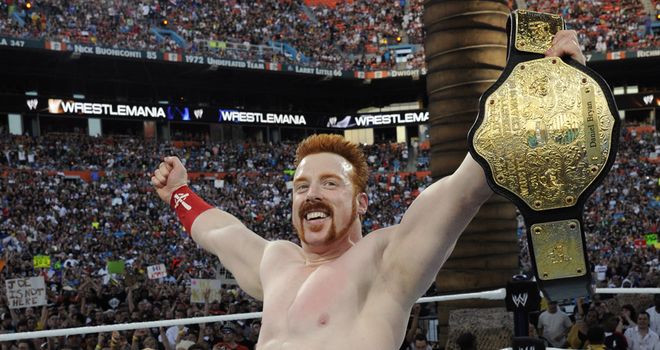 To say Sheamus faces a mammoth challenge at Hell in a Cell would be an understatement.
The reigning World Heavyweight Champion will put his belt on the line against the World's Largest Athlete, the 450-pound Big Show, in Atlanta, Georgia on October 28.
Sheamus - who won his strap by beating Daniel Bryan at WrestleMania in April in just 18 seconds - told skysports.com about his upcoming duel and how he plans to defeat his gargantuan opponent.
The Irishman also revealed how he and his fellow Superstars dealt with the heart attack to legendary commentator Jerry Lawler and why he can't wait for WWE's November tour of the UK...
skysports.com: You will defend your World Heavyweight Championship against the Big Show at Hell in a Cell. What sort of challenge will he pose?
SHEAMUS: My match with the Big Show will be one of my biggest tests since becoming World Heavyweight Champion at WrestleMania. I've been in the ring with Mark Henry and The Great Khali but I've never been in the ring with an athlete as big, as strong and with such a great track record as the Big Show. I hope I haven't bitten off more than I can chew!
skysports.com: Will you have to adapt your style when you compete against someone so large?
SHEAMUS: You have to adapt to whoever you are in the ring with. I have never claimed to be one of the best technical wrestlers in the world; I am a brawler. But when you are trying to brawl with an oak tree it is pretty hard and I am going to have to work really hard to knock Big Show down. I am going to have to be smarter, I'm going to have to try and use my speed, and I'm going to have to try and take his legs out from underneath him.
skysports.com: Will your usual arsenal of moves be effective against him?
SHEAMUS: I don't know if I can pick him up and deliver White Noise - my Celtic Cross manoeuvre that I use to pay homage to my countryman Finlay - or if I can get him into my Cloverleaf submission hold, but I didn't come to the WWE to sit back; I came for challenges and fights. I'll certainly have a fight against the Big Show but whatever happens at Hell in a Cell, I will be fighting him again on the UK tour in November.
skysports.com: Are you always striving to improve your in-ring skills?
SHEAMUS: You have to keep developing all the time. I am on TV twice a week - Raw and Smackdown - so you have to keep being creative and come up with different moves and different ways of beating your opponent as they will cotton on to things really quickly if you don't. You have to take the bull by the horns and step out of your shell and not be content with what you are doing. That's what great Superstars like Undertaker, Shawn Michaels, Triple H, Stone Cold and Bret Hart did; they continuously developed their in-ring personas. If you get stale you fall to the back of the line.
skysports.com: Is one of the best parts of your job that you get to face so many different types of competitor?
SHEAMUS: Yes. I have mixed it up with a whole host of guys recently, including Chris Jericho, Randy Orton, Daniel Bryan, CM Punk and Alberto Del Rio, but there are lots of other exciting Superstars coming through now with great characters. I fought Damien Sandow on Raw a couple of weeks ago and he is going to be a big player in the WWE; he likes to run away but when he wants to he will work on you like nobody's business and wear you down. You also have Antonio Cesaro, while Wade Barrett is back now, too. I have wrestled Wade all over the place and there is a real friendly rivalry between us - as you'd expect with him being English and me being Irish. We kicked each other black and blue in our recent match on Raw; his eye was swollen and my legs were hanging off!
skysports.com: Vince McMahon returned to Raw recently and had a fight with CM Punk. Is he quite an intimidating character? What is he like to work with?
SHEAMUS: When I started in the WWE I had a lot of nerves. I had been watching WWE my whole life and was then going in there to try and make an impression, the right impression, and so Vince was quite intimidating. He is a force of nature and controls everything from top to bottom, from the office to what goes out on television. Seeing him have a fight with CM Punk shows his commitment and how determined he is to put on the best show possible. He has so much drive and never lets up.
skysports.com: Jerry Lawler had a heart attack during a Raw show in Montreal in September. How difficult was that for you and the other wrestlers to cope with?
SHEAMUS: We didn't know what was going on, even though there were rumours spreading around. Daniel Bryan and Kane took on the Prime Time Players at the time of Jerry's heart attack and everyone was looking to see what was going on with him at the announcers' table. It didn't filter down what had happened until after my match with David Otunga, but we were all extremely concerned and all thinking about him. However, despite the difficult circumstances, you still have to go out there, put on a performance and do your job.
skysports.com: Is Lawler making steady progress?
SHEAMUS: He has; it's great news that he is making a recovery but he is a fighter and I always knew he would. Jerry has been great to me from day one. He is a great commentator but he also has a lot to do with the talent and is very approachable, has no ego and is a real-salt-of-the-earth fella; he has helped me so much.
skysports.com: You mentioned the UK Tour earlier. Does competing on home soil give you an extra buzz?
SHEAMUS: It does and I love going back to the UK. I cut my teeth in Ireland but I went over to the UK for All-Star Wrestling and that's where I started getting experience, working with guys like Robbie Brookside, which really helped me get to where I am now. I used to go up and down the roads in a van with five or six other wrestlers, so it is very special for me to go back; it reminds me how far I have come. I wouldn't say it makes me try harder, though, as you have to be on top of your game everywhere you go, whether that's in the States, the UK or Egypt. That's what the fans expect.
skysports.com: You are on the road for such a long time throughout the year. Do you ever get the chance to let yourself go?
SHEAMUS: You have to go out and have a few jars every now and again or hit the bar after five nights of intense hard work, but we are running around in a pair of tights and you don't want to get out of shape! I know that this career is not going to last forever so I want to make sure that I am in great condition and that I can make it last for as long as possible.
skysports.com: Finally, the Lance Armstrong saga has hit the headlines in recent weeks. How stringent are the drug-testing policies in WWE?
SHEAMUS: The WWE has a wellness policy and has done so ever since I came to the States five years ago. We are all tested randomly for anything from prescription drugs to performance-enhancing drugs to supplements off the shelf, some of which are not allowed in the wellness policy. The policy also includes regular health checks for things like concussion and covers the wellbeing of all WWE Superstars. I think it is the greatest thing that has been introduced.
WWE will return to British and Irish shores between November 2-10. Click this link for more information on dates, venues and tickets.