Three-time WWE Champion Mick Foley to be entered into WWE Hall of Fame at April's induction ceremony
Click here for the lowdown on the WWE Hall of Fame Class of 2013, which has a real Hardcore edge...
Last Updated: 19/03/13 5:42pm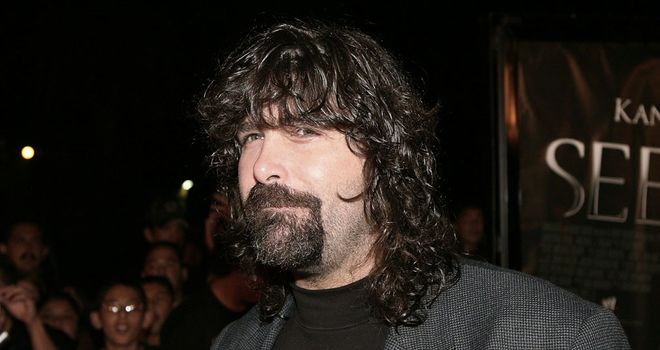 The Hardcore Legend, who competed under multiple guises during his grappling days, including Mankind, Cactus Jack and Dude Love, will be officially entered at the annual Hall of Fame ceremony, which takes place the night before WrestleMania XXVIIII on Saturday, April 6.
Foley seized the WWE Championship three times during his career, and also captured the WWE Tag Team belts on eight occasions, with partners such as The Rock, Kane and Stone Cold Steve Austin.
Mrs Foley's Baby Boy, rarely without his trusty sidekick Mr Socko, was also named as the first-ever Hardcore Champion, but he is perhaps best known for his epic Hell in a Cell match with the Undertaker in 1998, in which he fell 16 feet from the top of the steel structure and through an announce table.
Foley has branched out into other mediums, launching a stand-up comedy career, penning multiple New York Times best-selling books and featuring in TV shows like American sitcom 30 Rock.
But the 47-year-old has always returned to his wrestling roots and since appearing back on WWE television in 2011 after a three-year-absence, has engaged in verbal brawls with CM Punk and Dolph Ziggler and managed a five-man tag-team at Survivor Series in November 2012.
Many more Superstars will be inducted into the WWE Hall of Fame in 2013, including:
Bruno Sammartino
The man with the longest WWE Title reign in history will finally be inducted into the WWE Hall of Fame inside the hallowed walls of Madison Square Garden. Sammartino won his maiden WWE Championship in May 1963 when he pinned "Nature Boy" Buddy Rodgers" in just 48 seconds, and managed to hold the strap for seven years and eight months, after coming out on top in epic duels with wrestlers like Killer Kowalski, Waldo Von Erich, and Gorilla Monsoon. Sammartino's lengthy tenure with the belt came to an end in January 1971 when he lost to Ivan Koloff, but he regained the prestigious strap in 1973, clutching it for over three years before falling to "Superstar" Billy Graham.
Trish Stratus
The Canadian grappler revolutionised the Divas division with her unique blend of beauty and athleticism and went on the capture the WWE Women's Championship seven times. Stratus' rivalry with Lita was perhaps her most memorable, with the duo's title contest once main-eventing an episode of Monday Night Raw. The Ontario-born star retired from full-time competition in 2006, but later acted as a trainer on WWE Tough Enough and returned to the ring at WrestleMania XXVII in 2011, teaming with John Morrison and Jersey Shore star Snooki to defeat Dolph Ziggler, Michelle McCool and Layla.
Booker T
The Master of the Spinarooni is currently making matches in his role as Smackdown's Genral Manager, a gig he has had since July 2012, but he enjoyed a stellar in-ring career, too, winning five WCW Titles and one WWE World Heavyweight Championship. The Texan was also a renowned tag-team competitor, snaring gold with his brother Stevie Ray 10 times during his tenure in World Championship Wrestling and seizing straps with the likes of Rob Van Dam and Goldust in WWE.
Bob Backlund
Backlund defeated "Superstar" Billy Graham in 1978 to pluck the WWE Championship and would go on to hold the strap for five years, beating the likes of Sgt Slaughter, Jimmy Snuka, Harley Race, Ric Flair and Nick Bockwinkle in the process. The Minnesotan's second and final reign with the title would last just three days, but he showed his grappling ability during the 1993 Royal Rumble match, which he won after lasting a whopping 61 minutes and 10 seconds. Backlund, famous for his Crossface Chickenwing submission manoeuvre, also won the WWE Tag Team Titles on one occasion with Pedro Morales.
Donald Trump
The business mogul has enjoyed a long and successful relationship with the WWE, allowing two WrestleManias, IV and V, to be held in his Atlantic City casino, Trump Plaza. Trump also put his infamous hair on the line at WrestleMania 23, but kept his locks after Bobby Lashley beat Umaga - meaning Vince McMahon was shaved bald instead. The New Yorker purchased Monday Night Raw in June 2009, too, before selling it back to McMahon a week later for a handsome profit.