Rating the Rumblers
skysports.com takes a look at some of the major contenders to win this Sunday's Royal Rumble.
Last Updated: 24/01/13 11:19am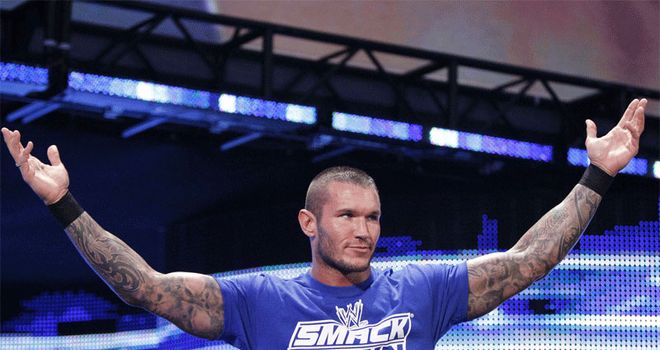 Who will win the Royal Rumble?
That's the question on every WWE fan's lips ahead of Sunday's mammoth showdown in Phoenix, Arizona which will end with one man having booked his spot in the main event of WrestleMania.
John Cena was the first man to officially enter the 30-man extravaganza and was quickly followed by the likes of 2012 victor Sheamus, British brawler Wade Barrett, reigning United States champion Antonio Cesaro and each member of 3MB.
However, skysports.com has assessed the form guide and selected some of the Superstars likely to contend for Royal Rumble glory this weekend. Read below for our picks...
John Cena
The 12-time world champion has previous when it comes to the Rumble, winning the hallowed event in 2008, and finishing runner-up in 2005 and 2010. Cena has used his superhuman strength and iron will to outlast and eliminate a plethora of his fellow Superstars, and having not held world title gold since October 2011, will be determined to earn a chance to battle for it at WrestleMania.
Randy Orton
The Viper seized victory in the 2009 Rumble thanks to help from former Legacy comrades Cody Rhodes and Ted DiBiase but will be forced to go it alone this weekend. However, that will not faze the Missouri native who readily admits that he does not play well with others, and after returning to action following a beat-down with the Shield with renewed vigour, Orton should be a major player.
Sheamus
No Superstar has been able to win back-to-back Rumbles since the legendary Stone Cold Steve Austin in 1998, but few would put that feat beyond Irish powerhouse Sheamus. The Celtic Warrior, who plucked the World Heavyweight Title from Daniel Bryan at last year's WrestleMania, also lasted a lengthy 18 minutes in the 2011 Rumble and his bulk will make him a difficult man to dislodge.
Dolph Ziggler
The Showoff will begin the Rumble with a severe disadvantage after being forced to enter the contest at number one or two, but the likes of Rey Mysterio and Shawn Michaels have won from such an early position and Ziggler has certainly has the craft and athleticism to do the same. Potential interference from girlfriend AJ and associate Big E Langston would aid his cause, too...
Kane
The Big Red Monster will appear in the Tag Team Title clash at the Royal Rumble but it would be a big surprise if he didn't enter the Rumble itself. Kane eliminated 11 competitors in the 2001 event and has accounted for 37 Superstars over the course of his 15 Royal Rumble appearances, a tally only bettered by Michaels' 40. Could this be his year to finally win the multi-man bout?
Ryback
Big Hungry has destroyed all in his path since debuting just after WrestleMania and could be the reigning WWE Champion if not for consistent ambushing by The Shield. The Sin City grappler vowed to impress at the Rumble during last Monday's Raw and with his devastating move-set and intense personality it would be a big surprise if he was wrong. The rest of the field are on notice...
The Miz
The Awesome One has main evented WrestleMania but is still waiting for his first Rumble victory. He did, however, put in a stellar display in 2012, lasting over 45 minutes after entering the bout at number one, and the former WWE Champion could use the Figure Four Leglock, recently bestowed to him by the Dirtiest Player in the Game, Ric Flair, to wear down his rivals - and, perhaps, even win.
Surprise entrant
Alongside the pre-match favourites, there are always some shock appearances from WWE legends in the Royal Rumble, like 2012 competitors "Hacksaw" Jim Duggan and Road Dogg. Could the Undertaker stun the world by entering the match and winning? Could Mick Foley take the spoils? And even though he will fight for the WWE Title on Sunday, could The Rock show up in the Rumble?
Booking details
WWE Royal Rumble will be shown on Sky Sports Box Office (channel 743) and in high definition on Sky Box Office HD (channel 752) on Sunday, January 27 at 1am (Mon).
WWE Royal Rumble will be repeated on Sky Sports Box Office (channel 743) - but NOT on Sky Sports Box Office HD (channel 752) - between 9am on Monday January 28 and 9pm on Saturday February 2. Repeat showings will last for three hours.
The event is priced at £14.95 for UK customers, €21.95 for customers in the Republic of Ireland.
You can order WWE Royal Rumble nearer the event by pressing the Box Office button on your remote. Select 'sports & events' and follow the on-screen instructions.
Viewers will also be able to call 08442 410 888 to book WWE Royal Rumble. (There may be an additional charge for telephone bookings).
You can also book WWE Royal Rumble online by clicking this link www.sky.com/orderboxoffice
Cable customers should contact their local cable operator.