Legendary WWE announcer Jim Ross discusses his upcoming UK shows
Legendary WWE announcer Jim Ross discusses what fans can expect from his upcoming trip to the UK.
Last Updated: 22/08/13 4:14pm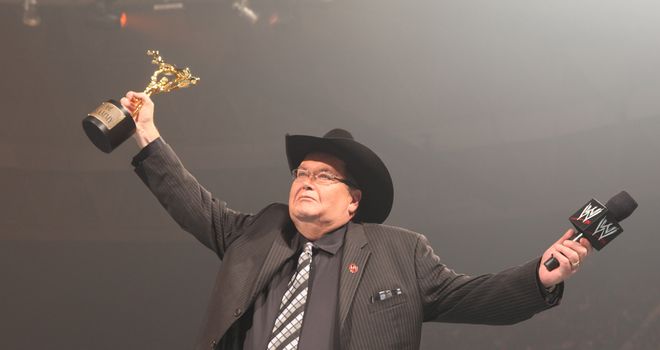 "Good Ol' JR" was a regular at the announce desk between the early 1990s and late 2000s and famed for quotes such as "It's a slobberknocker!" and "Business is about to pick up".
Ross makes just sporadic appearances in the commentary booth these days but he will be sharing some anecdotes from his 40-year career with fans this August during shows in Cardiff, London, Manchester and Glasgow.
Click here to purchase tickets for An Evening with Jim Ross
And ahead of his four-night tour, Ross spoke to skysports.com about what persuaded him to tell his story, what attendees can expect to hear and why the United Kingdom is such a poignant place for him...
"Many of my peers including Brett Hart and Mick Foley have made appearances around the globe telling their stories and they kept telling me: 'JR, you should go out there and tell your stories as it is something you would really enjoy'.
"I'd wanted to do it for years but was always very busy - I was on the road announcing 51 weeks a year and also engaged in the corporate office in WWE.
"However, the last time I was approached my schedule had eased up, I had a window of opportunity and I jumped at it.
"The tour started off as three dates but the ticket sales were better than I ever dreamed they would be so I added a fourth date and I think it will be different to most spoken-word tours.
"I am not a stand-up comedian but my stories are about the entity of entertainment so I think some of the behind-the-scenes tales I share will be quite humorous and entertaining.
"But I also think the fact that I have overcome so many health issues, namely three bouts of Bell's palsy, which is a facial paralysis affliction, will hopefully send out the message that anybody can achieve success and that nothing is impossible if you want it hard enough and are dedicated.
"I am very excited and like how intimate it is going to be in the venues in which I will be appearing; I am often in arenas and stadiums and don't get to interact closely and uniquely with the audience, but this will be a group of people sitting in a room together and having a good chat.
"The fans will be able to ask any question they choose during the Q&A portion of the show and nothing will be off limits.
"It will be spontaneous - I won't know the questions beforehand - and my goal is to be as informative as possible and talk about the relationships I have formed with first-class stars.
"This is a big deal for me.
"My very first assignment for WWE outside of the United States was in Sheffield so I have an affinity with the UK and some of the most emotional moments of my life have happened there.
"I was sitting in a hotel in London, preparing for a UK-only pay-per-view, when I get the call from my wife that my mum had passed away suddenly at the age of 64, while on air at that very pay-per-view, I suffered my second major attack of Bell's palsy, where half of my face was paralysed and I had to finish the broadcast holding my face up with my hand to get through it."
"Those memories are very emotional for me which makes this tour about much more than just business, so I thank the people that have parted with their time and money to come and see me in what I hope will be the first of many tours I do in the UK."
Stay tuned to skysports.com over the coming weeks to read Ross' views on announcing, the SummerSlam main events, what he looks for in new wrestling talent and WWE Chairman Vince McMahon.
WWE's next pay-per-view, SummerSlam, comes your way on Sunday, August 18. Make sure you catch all the action, live on Sky Sports HD Box Office.