Slammy Awards 2013: Daniel Bryan, CM Punk and The Shield win big
Click here to see who won what at the 2013 Slammy Awards, the WWE's version of the Oscars.
Last Updated: 12/12/13 10:30am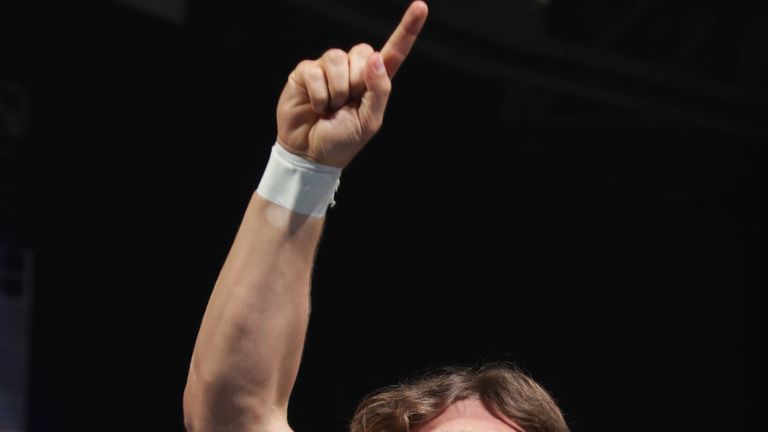 The submission specialist - who won the WWE Championship on two occasions earlier this annum - overcame the challenge of John Cena, Randy Orton, CM Punk, Big Show and the seldom-seen Brock Lesnar to lift the hallowed gong.
However, an array of accolades were dished out on Monday's episode of Raw in Seattle, including, Faction of the Year, Best Dance Moves of the Year, and the one they all wanted - except possibly the Divas - Beard of the Year.
So check below to see who snared what...
Faction of the Year
Winner:
The Shield (Dean Ambrose, Seth Rollins and Roman Reigns)
Nominees:
The Wyatt Family (Bray Wyatt, Luke Harper, and Erick Rowan
3MB (Drew McIntyre, Heath Slater and Jinder Mahal
The Real Americans (Antonio Cesaro, Jack Swagger and Zeb Colter)
Return of the Year
Winner:
Goldust
Nominees:
Chris Jericho
Bruno Sammartino
Rob Van Dam
The Bella Twins
Feat of Strength of the Year
Winner:
Mark Henry (for pulling two trucks with his bare hands)
Nominees:
Antonio Cesaro (for swinging The Great Khali)
Ryback (for hitting Shell Shocked on Mark Henry
The Shield (for flooring Big Show with the triple powerbomb)
Dance Moves of the Year
Winner:
The Funkadactyls
Nominees:
Fandango
R-Truth
Summer Rae
The Great Khali
Miz-co Inferno (The Miz)
This is Awesome! Moment of the Year
Winner:
Big Show (for knocking out Triple H on Raw)
Nominees:
Dolph Ziggler (for successfully cashing in his Money in the Bank contract on Raw)
Kofi Kingston (for saving himself from Royal Rumble elimination using JBL's chair)
Daniel Bryan (for winning the WWE Title from Randy Orton at Night of Champions)
Beard of the Year
Winner:
Daniel Bryan
Nominees:
Damien Sandow
The Wyatt Family (Bray Wyatt, Luke Harper and Erick Rowan)
Zeb Colter
LOL! Moment of the Year
Winner:
The Rock (for his concert on the 20th anniversary of Raw)
Nominees:
Vickie Guerrero (for being fired as Raw General Manager)
Titus O'Neil (for throwing up in JBL's hat)
The Great Khali and Jinder Mahal (for trying to charm Santino Marella's Cobra)
Diva of the Year
Winner:
The Bella Twins
Nominees:
AJ Lee
The Funkadactyls (Naomi and Cameron)
Natalya
Kailyn
Eva Marie
Double-Cross of the Year
Winner:
Shawn Michaels (for turning on Daniel Bryan and Hell in a Cell)
Nominees:
Triple H (for turning on Daniel Bryan at SummerSlam)
Mark Henry (for throwing up in JBL's hat)
The Great Khali and Jinder Mahal (for trying to charm Santino Marella's Cobra)
Match of the Year
Winner:
John Cena v The Rock (at WrestleMania 29)
Nominees:
The Undertaker v CM Punk (at WrestleMania 29)
Cody Rhodes and Goldust v Seth Rollins and Roman Reigns (at Battleground)
Triple H v Brock Lesnar (at Extreme Rules
Extreme Moment of the Year
Winner:
CM Punk (for exacting revenge on Paul Heyman at Hell in a Cell)
Nominees:
The Shield (for triple powerbombing The Undertaker on Smackdown)
Ryback (for spearing John Cena through the LED lights at Extreme Rules)
The Wyatt Family (for crushing Kane at SummerSlam)
For a full list of the 2013 Slammy Award winners, head to WWE.com