Seth Rollins: Shield star talks Dean Ambrose, Roman Reigns and Royal Rumble
Seth Rollins says The Shield's natural connection makes them one of the best WWE stables of all time.
Last Updated: 27/01/14 11:19am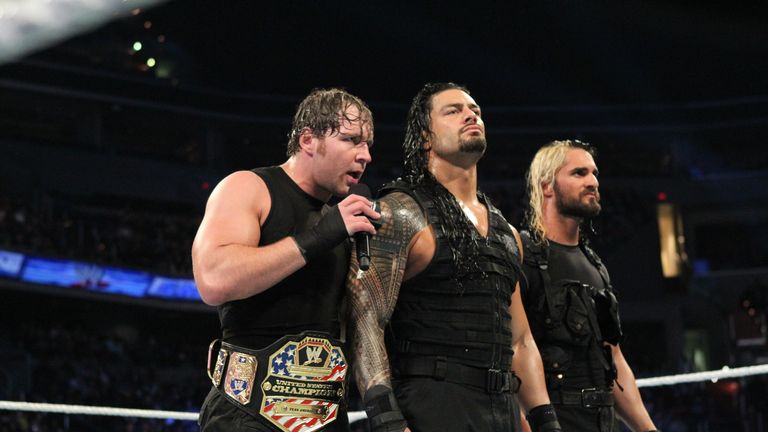 That's how Seth Rollins described his connection with Shield cohorts Dean Ambrose and Roman Reigns during an interview with skysports.com ahead of the 2014 Royal Rumble.
Former independent wrestlers Rollins and Ambrose united with ex-gridiron defensive tackle Reigns in late 2012 - and the trio, who honed their skills in WWE's developmental territory NXT, have flourished ever since.
The Shield's opening gambit was to cause carnage during CM Punk and Ryback's WWE Championship match at Survivor Series 15 months ago, while at the next pay-per-view, Tables, Ladders and Chairs, they won their debut bout, knocking off Ryback, Daniel Bryan and Kane.
A victory over Sheamus, Randy Orton and Big Show followed at their maiden WrestleMania before Rollins and Reigns enjoyed a stint with the WWE Tag Team Titles and Ambrose plucked the United States Championship.
Rollins says he and his stablemates - who were also named Faction of the Year at the Slammy Awards in December - clicked instantly, even though they vary as characters outside of the squared circle.
"We fell into our roles and complemented each other extremely well, which doesn't happen all that often in this business," said the Iowa-born grappler. "It was like magic.
"If you look at the history of professional wrestling, I think we stand out as one of the greatest factions of all time and I think that's because we all bring something different to the table and use each other's strengths to combat our weaknesses.
"We are very different dudes away from the ring and have different likes when it comes to music, hobbies and women, and, because we have been with each other for a year straight, we do squabble from time to time.
"We hang out all the time so we do get sick of each other but that's how brothers are - and when it comes to going to the ring and kicking ass, we're one of the same."
WWE icons such as Punk, John Cena and The Undertaker have felt the Shield's force but Rollins insists his troop are not shocked at the impact they have made in such a short space of time.
And the 27-year-old believes the black-clad renegades have instigated a paradigm shift in WWE, one that has stimulated the company's young stars, like reigning Intercontinental Champion Big E Langston and high-octane tag team The Usos.
"It's been very humbling to have achieved what we've achieved but definitely not surprising," added Rollins, who, along with Ambrose and Reigns, will enter the 30-man Royal Rumble match on Sunday.
"Dean, Roman and I are three of the most confident individuals you are ever going to meet and we all knew what we were capable of, so we wanted to beat the guys on top.
"We weren't going to sit idly by and let other people get opportunities and squander them, and knew that if we got the ball we could run with it and score every single time.
"Since we've come in, though, people have raised their game to meet what we are doing.
"We challenged ourselves by setting the bar higher than it's ever been set, working harder than everyone else in the ring and behind the scenes, and trying to become the leaders of the next generation.
"That has rubbed off onto the guys around us and that's great to see."
Rollins also had plenty to say on the Royal Rumble - which you can watch live and exclusive on Sky Sports Box Office - so read below for his thoughts on...
Whether The Shield will work together during the 30-man match
SETH SAYS: We have a strategy - I'm not going to divulge what it is - should the three of us be in the ring at the same stage. The other 27 guys will have a real rough ride if that's the case and if it comes down to myself, Dean and Roman, then may the best man win. It's every Superstar's dream to main event WrestleMania and that's what I'm looking for.
Favourite Rumble memories
SETH SAYS: I love this event. In recent years you have had all these crazy Kofi Kingston things going on where he finds ways to avoid elimination, but I loved the Shawn Michaels win from 1995 when he and the British Bulldog started the match and were then the last two men left. I liked the Hulk Hogan victories, too, but the Rumble is always non-stop action.
Who he would like to make a shock appearance in Pittsburgh
SETH SAYS: I'd like to see "Rowdy" Roddy Piper in the Rumble. We have recent history with him and I'd love to get my hands on him. I hated Piper's guts growing up but I think that's how he wanted it because he is one of the most legendary bad guys in the history of our business. To have him in the ring would be a real cool deal.
Royal Rumble repeat booking details
WWE Royal Rumble will be repeated on Sky Sports Box Office (channel 743) BUT NOT Sky Sports HD Box Office (channel 752) between 9am, Monday, January 27 and 9pm, Saturday, February 1. Repeats showing will last for three hours.
The event is priced at £14.95 for UK customers, €21.95 for customers in the Republic of Ireland.
You can order WWE Royal Rumble from Friday, January 17 by pressing the Box Office button on your remote. Select 'sports & events' and follow the on-screen instructions.
Viewers can call 08442 410 888 from Friday, January 17 to book WWE Royal Rumble. (There may be an additional charge for telephone bookings).
You can also book WWE Rumble online from Friday, January 17 by visiting this link: https://my.sky.com/orderboxoffice/
Cable customers should contact their local cable operator.