Monday night Raw: Orton loses again amid pre-Chamber brawl
Randy Orton's losing streak continues, sparking wild scenes between his Chamber opponents.
Last Updated: 20/02/14 1:51pm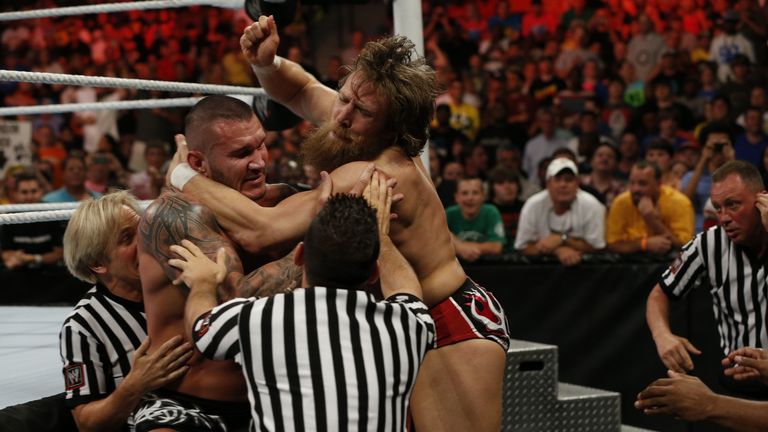 All six Chamber competitors brawled chaotically with The Shield and The Wyatts as Raw closed with tension mounting ahead of this weekend's event, live on Sky Sports.
WWE Champion Orton was disqualified in the main-event against Sheamus (his fourth loss against future Chamber opponents) before a mass melee broke out.
Sheamus was in position to deliver a Brogue Kick when The Shield mobbed him, ending the match and instigating chaos.
John Cena, Daniel Bryan, Christian and Cesaro joined the action to spark scenes whetting the appetite for all six men being locked inside a cage on February 23.
The Wyatts - who don't need to be asked twice to join a fight - involved themselves as Raw ended.
Earlier The Wyatts beat Sin Cara and Los Matadores but still had enough in the tank to attack their Chamber opponents The Shield.
Fight!
The night had begun with Cena addressing the crowd but it wasn't long before his five future opponents joined him seeking a psychological edge.
Director of Operations, Kane, announced three singles matches for the night to let the feuding Superstars blow off some steam.
Prior to Orton and Sheamus' manic main-event, Bryan faced Christian.
The Beard was attacked before the match started and Christian, more interested in inflicting harm that earning a win, repeatedly hurled Bryan's shoulder into the steel steps at ringside.
After Christian's disqualification, Kane increased the punishment on the stricken Bryan.
Demanding an official match, Kane manhandled his former tag-team partner en route to a disqualification.
It was less than ideal preparation for Bryan.
The focus switched to Cena v Cesaro who delivered one of the finest bouts of 2014 so far.
Having kicked out of a Cesaro Swing, Cena secured victory with an Attitude Adjustment but the remarkable performance of Cesaro put his underdog status into question.
Elsewhere, Roman Reigns' pinned Mark Henry before joining his Shield team-mates in the main-event madness with weekend opponents The Wyatts.
Chamber opponents Big E and Jack Swagger were also victorious in their respective matches and eyeballed each other before Sunday's Intercontinental title match.
Big E took out Drew McIntyre and Jinder Mahal while Swagger submitted Kofi Kingston.
The New Age Outlaws' prospects of defending their tag-team titles this weekend were cast into further doubt. One half of the champions, Billy Gunn, lost to Jey Uso a week after Jimmy Uso beat Road Dogg.
Fandango defeated Santino Marella into a contest between two of the WWE's more illuminating characters.
Watch Raw and Smackdown every week on Sky Sports and make sure you catch WWE Elimination Chamber, live at 1am on Sunday, February 23 (Monday morning) on Sky Sports 1.