The Shield: Read how the black-clad renegades have taken WWE by the scruff of the neck
Can the Hounds of Justice strike again at WrestleMania XXX?
Last Updated: 03/04/14 2:10pm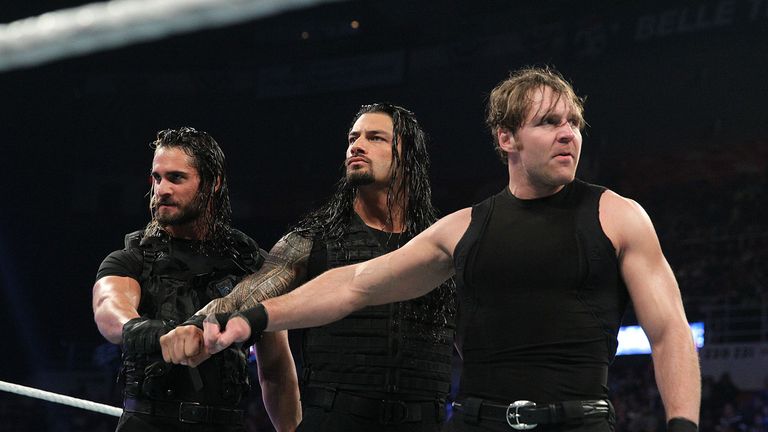 They dress in black, they emerge for their matches - and to hand out beat-downs - through the crowd, and they won their maiden match at WrestleMania against three of WWE's biggest names.
They formerly held the Tag Team Championships, one of their members is still clinging onto the United States Title, and they will face Kane and the New Age Outlaws at this year's Show of Shows.
CLICK HERE TO ORDER WRESTLEMANIA XXX
They are The Shield.
Dean Ambrose, Seth Rollins and Roman Reigns burst onto the scene in the main event of Survivor Series 2012, thundering Ryback through the announce desk and allowing CM Punk to pin John Cena and retain the WWE Championship.
In the weeks that followed, The Shield vowed to rid WWE of injustice and continually attacked Punk's adversaries - but, ironically, it was a leg injury to the Second City Saint that handed the dangerous trio their first big opportunity.
Punk was scheduled to defend his strap against Ryback at the TLC pay-per-view in December 2012, but when The Human Wrecking Ball plundered him into a table and shellacked him with a chair and a ladder, he was forced to withdraw.
That left Ryback to band with then-WWE Tag Team Champions Daniel Bryan and Kane - yes, despite current issues, they did used to get along - against The Shield in a Tables, Ladders and Chairs brawl, with Ambrose, Rollins and Reigns proving they could wrestle as well as scrap.
The black-clad rebels - who had honed their craft in NXT - dominated much of the melee, and after dealing with a brief Ryback fightback, secured victory by sending Bryan through a table with a triple powerbomb, a move that would soon become their trademark.
Boosted by a win in their debut duel, Ambrose and co left no-one unscathed - even WWE's Apex Predator and current WWE World Heavyweight Champion, Randy Orton, felt the brood's force - but they remained inextricably linked with Punk.
The Shield attacked Ryback during his rescheduled WWE Championship Tables, Ladders and Chairs Match with the Voice of the Voiceless, causing the Sin City powerhouse to come up short once again, but the Hounds of Justice's presence at Royal Rumble 2013 backfired on Punk.
Pain
WWE Chairman Vince McMahon declared before the Second City Saint put his belt on the line against returning legend The Rock that should Ambrose, Rollins and Reigns interfere, the champion would be stripped of his garland.
And while that didn't occur at the Rumble, Punk still left the event shorn of gold, when his Shield-assisted victory was rendered null and void, and The Most Electrifying Man in all of Entertainment People's Elbowed and pinned his rival when the bout was restarted.
It later emerged that, unbeknownst to Punk, his wily manager Paul Heyman had been paying the men in black to ensure the title remained around his waist, but The Shield soon showed that they were nobody's puppets.
They continued to make Ryback's life a misery and dished out pain to John Cena and Sheamus, too, beating that powerful triumvirate at Elimination Chamber and then conquering The Big Guy, The Celtic Warrior and Chris Jericho in their maiden bout on Raw.
The Shield did not freeze at their first WrestleMania either, thriving in the spotlight to overcome Orton, Sheamus and Big Show in front of 80, 676 screaming fans at New Jersey's MetLife Stadium - and then it was the Deadman's time to suffer.
Not only did The Undertaker lose to the Ambrose, Rollins and Reigns whilst partnering brother Kane and Bryan in a six-man dust-up in London, he was also propelled through the commentary desk, just as Ryback had been five months earlier.
While The Demon of Death Valley - who had taken his famed unbeaten streak at WrestleMania to 21 matches with a triumph over Punk in East Rutherford - licked his wounds, The Shield went on the hunt for championship gold.
Their quest proved successful at Extreme Rules, with Ambrose defeating Kofi Kingston to win the United States Championship - a strap he still holds almost 11 months later - and Rollins and Reigns vanquishing Bryan and Kane to pluck the WWE Tag Team Titles.
The Shield's record of never having been pinned or made to submit in televised six-man brawls did come to an end, with losses to Team Hell No and Randy Orton, as well as Mark Henry, Big Show and Rob Van Dam, and the Usos and Christian.
But the championships remained within their grasp, with the Usos and The Prime Time Players unable to poach the twin titles, and Ambrose fending off Kane, Van Dam and Dolph Ziggler.
But cracks began to form.
At odds
Rollins and Reigns were beaten by Cody Rhodes and Goldust at Battleground and then saw the same opponents prise their belts from them on Raw, albeit with help from the gargantuan Big Show.
The trio, now working for WWE COO, Triple H, were also surprisingly humbled by Punk in a three-on-one handicap match at TLC - the event they had made waves at a year earlier - with Reigns spearing Ambrose, not his heavily-tattooed opponent, after injuring his eye.
Reigns, the Shield's muscle, intentionally riled Ambrose and Rollins in the 2014 Royal Rumble match though, sending both of his comrades over the top rope en route to setting a new record of 12 eliminations and reaching the final two.
Once the most cohesive team on the roster, Ambrose, Rollins and Reigns were now frequently at odds, and lost to the eerie Wyatt Family in a dazzling duel - seriously, it was superb - at Elimination Chamber when Ambrose was taken into the crowd by Bray Wyatt and failed to return.
It was Rollins who went rogue in the Shield-Wyatts rematch, though, abandoning his pals mid-melee after becoming frustrated by the constant bickering between a troop that had run roughshod over everybody.
The end seemed nigh - but now they are stronger than ever.
Rollins apologised for walking out, Reigns and Ambrose welcomed their ally back into the fold and normal service was resumed - except they would be taking orders from no-one, especially Kane.
The Shield rebuffed the Director of Operations' request to batter Jerry "The King" Lawler and instead battered him - a move that ended their hopes of fighting for the Tag Team Titles, now held by The Usos, at WrestleMania XXX.
Kane and the New Age Outlaws destroyed Ambrose, Rollins and Reigns during a No 1 Contender's Fatal Four-Way, setting up a match between the veterans and the Hounds of Justice at the Showcase of the Immortals.
The Shield, though, demonstrated just how strong they are by beating the proverbial out of Cesaro on Raw and making light work of 3MB and RybAxel on Smackdown, and with the WWE Universe now very much behind the black-clad renegades, they remain extremely dangerous
If Kane and the New Age Outlaws don't already know that, they will on a pulsating night in New Orleans.
WrestleMania XXX booking details
WrestleMania XXX will be shown on Sky Sports Box Office (channel 743) and Sky Sports HD Box Office (channel 752) at midnight on Sunday, April 6 (Monday morning).
WrestleMania XXX will be repeated on Sky Sports Box Office (channel 743) BUT NOT Sky Sports HD Box Office (channel 752) between 10am on Monday, April 7 and 10pm on Saturday, April 12.
Repeat showings will last for four hours.
The event is priced at £17.95 for UK customers, €24.95 for customers in the Republic of Ireland.
You can order WrestleMania XXX from Friday, March 28 by pressing the Box Office button on your remote. Select 'sports & events' and follow the on-screen instructions.
Viewers can call 08442 410 888 from Friday, March 28 to book WrestleMania XXX. (There may be an additional charge for telephone bookings).
You can also book WrestleMania XXX online from Friday, March 28 by visiting this link: https://my.sky.com/orderboxoffice/
Cable customers should contact their local cable operator.