WrestleMania XXX: See what Sky Sports News' Gary Coterill got up to in New Orleans
Roving reporter catches up with The Bella Twins - and Hulk Hogan
Last Updated: 11/04/14 3:26pm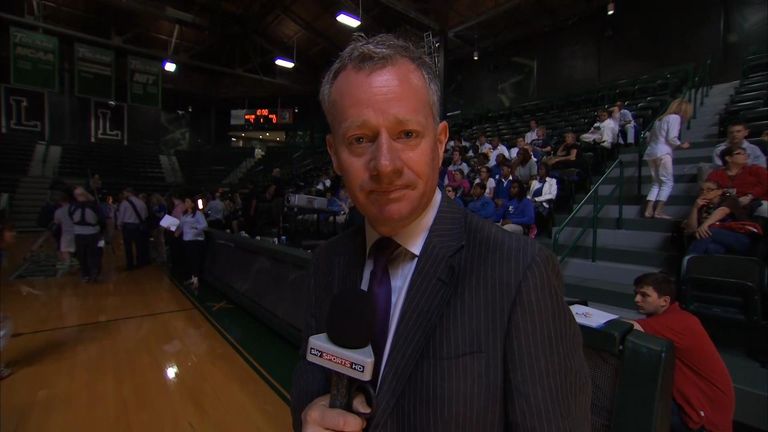 Gary Coterill dusted off his ring gear and flexed his muscles - okay, that's not strictly true - and headed to New Orleans to inform you just how the Big Easy prepared for the Show of Shows.
Along the way, Gary interviewed luminaries of the wrestling world, got his face on the WWE Twitter page and was handed a special power by 14-time world champion, John Cena.
To see what Gary got up to, watch the videos below, and to read our report of WrestleMania XXX - which was held inside the Mercedes-Benz Superdome - hit this link...
Day #1
Gary first caught up with a trumpet-blowing local, who was looking forward to the WrestleMania return of the legendary, "Immortal One" Hulk Hogan - before checking in with Cubs the Poet. Gary also sampled the delights of the French quarter of New Orleans - he even had a chat with this quite brilliant robot fella - and got the lowdown on why it is such a big thing for The Big Easy to host WWE's biggest even. Before, he could get some shuteye, however, Gary heard Cubs' poem, which had a Sky Sports News theme...
Day #2
Mr Coterill met a glamorous pair on day two of his New Orleans odyssey, Brie and Nikki Bella, and the grappling girls - who date Daniel Bryan and John Cena respectively - explained how desperate they were to become Divas Champion at 'Mania. The siblings - who previously played soccer in their home town of Scottsdale, Arizona - took time out from their Show of Shows preparations by engaging in a little basketball coaching, alongside Titus O'Neil, who is now flying solo after ditching his Prime Time Players partner Darren Young.
Day #3
There was plenty of razzmatazz at the pre-WrestleMania party, as the Divas, Big Show and Rey Mysterio let their hair down ahead of the serious business on Sunday. Gary enjoyed chinwags with Hulk Hogan - who will head to London in May as part of WWE's UK Tour - John Cena - who taught him the power of invisibility - and the soon-to-be-married Daniel Bryan, as well as The Authority, Triple H and Stephanie McMahon, who explained how a sledgehammer DOES help you get work done in the office and not just in the ring...
Day #4
With just hours to go until the big show and a series of high-octane matches - including Brock Lesnar versus The Undertaker, Bray Wyatt against John Cena, Daniel Bryan's clash with Triple H and the 30-man Andre the Giant Memorial Battle Royal - Gary does his best Bryan impression and chants "Yes, Yes, Yes," before interviewing a host of fans, including a man who has travelled from South Korea to sampled the Showcase of the Immortals, an excited Scot, a Dolph Ziggler admirer and a bloke in a "Stone Cold" Steve Austin T-shirt.