WWE Hall of Fame 2014: Ultimate Warrior, Jake "The Snake" Roberts and Lita inducted
Several more iconic Superstars also recognised in New Orleans
Last Updated: 07/05/14 2:39pm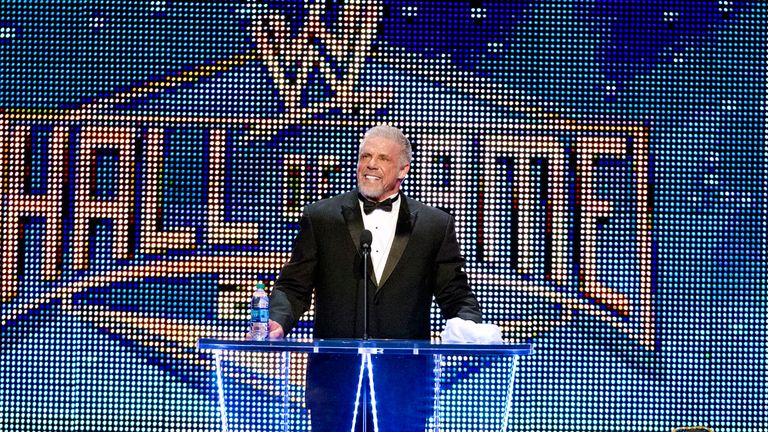 Warrior - who sadly passed away on April 8, three days after the induction ceremony in New Orleans - was one of the most charismatic and colourful WWE Superstars of his and any other generation.
The grappler, real name James Hellwig, seized the Intercontinental Championship twice during his stint in WWE, while he also prised the WWE Championship from Hulk Hogan at WrestleMania VI.
Warrior pinned the Hulkster in front of almost 70,000 fans inside Toronto's SkyDome on April 1, 1990, and held the strap for 293 days before losing it to Sgt Slaughter at the 1991 Royal Rumble.
The Indiana-born competitor also enjoyed eye-catching matches with luminaries like The Undertaker, Randy "Macho Man" Savage, Jerry Lawler, The Honky Tonk Man and "Ravishing" Rick Rude.
Hellwig's initial spell in WWE lasted from 1988-1991 and after making sporadic appearances between 1992 and 1996 - including to defeat Triple H at WrestleMania XII - he returned to the company this year.
Warrior was inducted into the WWE Hall of Fame by Linda McMahon on April 6, starred at WrestleMania XXX a day later, and then spoke to WWE fans on Monday Night Raw on April 7, 18 years after he last featured on the WWE's flagship show.
The Ultimate Warrior may be gone but he will never be forgotten.
Hellwig was one of a number of legends to enter the Hall of Fame in 2014. The others were:
Jake "The Snake" Roberts
Inducted by: Diamond Dallas Page
Credited as the inventor of the DDT, Roberts tussled with the likes of Ted DiBiase, Rick Martel, Andre the Giant, and Ricky "The Dragon" Steamboat in the 1980s and '90s, but is perhaps best remembered for bringing serpents to the ring, most notably a python called Damien.
Razor Ramon
Inducted by: Kevin Nash
Ramon won the Intercontinental Title four times, while he also snared the WCW Tag Team Titles on seven occasions and the United States Heavyweight Championship twice. The Bad Guy mixed size and skill and his Ladder Match with Shawn Michaels at WrestleMania X is still held in high regard today.
Lita
Inducted by: Trish Stratus
One of the most beloved Divas of all time, rock chick Lita wrestled alongside Jeff and Matt Hardy in Team Xtreme, but she carved a successful solo career, too, capturing the Women's Championship four times and having a main-event title match against Trish Stratus on Raw in December 2004.
Paul Bearer
Inducted by: Kane
Bearer, known for his thin moustache, pale face and high-pitched squeal of 'Oh, yeah', passed away in March 2013 at the age of 58, but will go down as one of the greatest managers of all time, having guided The Undertaker, Kane, Mankind, Vader, Rick Rude and Steve Austin to grappling glory.
Mr T
Inducted by: Gene Okerlund and T Junior
The actor made his name as B. A. Baracus in The A-Team but enters the celebrity wing of the WWE Hall of Fame after teaming with Hulk Hogan to conquer Roddy Piper and Paul Orndorff in the main event of WrestleMania I and then beating Piper in a boxing match at WrestleMania II.
Carlos Colon
Inducted by: Carlito, Primo and Epico
Colon is the promoter of Puerto Rican territory World Wrestling Council and is a 26-time WWC Universal Heavyweight Champion. A master of the figure-four leglock, Colon's sons Carly and Eddie have competed in WWE as Carlito and Primo, while his nephew Tito adopted the ring name Epico.
What are your memories of the WWE Hall of Fame Class of 2014? Let us know using the feedback form below...