Triple H: The Game says he has made the most 'epic' ladder match in WWE history
Cerebral Assassin wishes Vickie Guerrero well in future endeavours...
Last Updated: 26/06/14 1:25pm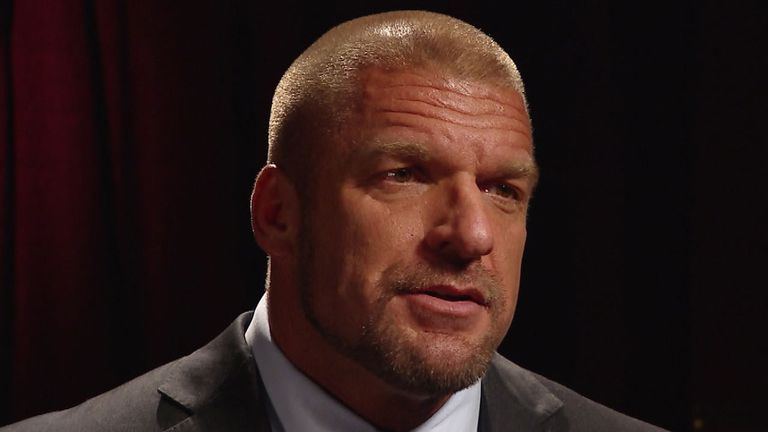 Every Wednesday on WWE.com, Triple H sits down with Michael Cole to discuss the big grappling developments.
WWE Chief's Operating Officer often looks ahead to the big, upcoming shows but he also mentions the Superstars that have impressed or irked him in equal measure.
WWE MONEY IN THE BANK
1am, Sunday (Mon)
Live on Sky Sports Box Office
Following on from an eventful Monday Night Raw and with the Money in the Bank pay-per-view just days away, there was plenty for The Game to sink his teeth into this week.
CLICK HERE TO ORDER WWE MONEY IN THE BANK
The Cerebral Assassin wasted little time in criticising the newly-canned Vickie Guerrero and former Shield rebel Dean Ambrose, while he also explained his decision to enter Kane in Sunday's WWE World Heavyweight Championship Ladder Match…
On Vickie Guerrero's firing as Smackdown General Manager…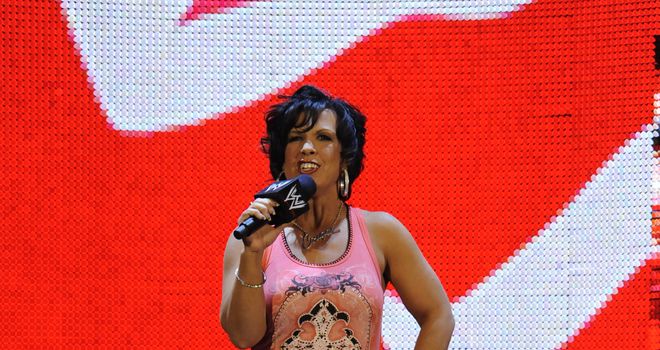 TRIPLE H SAYS: So let me get this straight. For nine years people hated Vickie. She was irritating, had a grating voice and was incompetent at her job. If she had have been fired two weeks ago people would have cheered wildly but in the last two weeks she became at odds with my wife [Stephanie McMahon] and brought up the name of her late, great husband Eddie Guerrero and suddenly she is worshipped by the WWE Universe. The only reason she was here was because of her late, great husband and because of the way she did business on the way out she has lost her opportunity here, including her opportunity to get a severance package and a reference. I'm sure Vickie has a lot of skills – though I have no idea what they are considering she can't get a simple cup of coffee – and I hope she does well for herself and finds happiness in her future endeavours.
On Dean Ambrose saying Triple H will be his enemy for life...
TRIPLE H SAYS: Dean Ambrose has embarassed me by still being here. He says I'll be his enemy for life, but, Dean, get in line. It's like waiting to get into a theme park: it's a long line that takes a lifetime and when you get there it's over in 30 seconds and you feel disappointed that someone has taken your money. You think I sweat Dean Ambrose? No. You think I sweat Roman Reigns? No. Seth Rollins is the guy from The Shield. Seth Rollins made The Shield. And when The Shield was over, I took the talent that was in The Shield for myself. The others were just a by-product. As for Reigns, he and Kane have been around each other for two years but never got the chance to get to know each other. They will on Smackdown, though, and Reigns may find that he has awoken a demon.
On whether Kane will be ordered to protect Randy Orton at Money in the Bank...
TRIPLE H SAYS: With the WWE World Heavyweight Championship hanging above the ring, do you think I can trust anybody? It's every man for himself. If I wanted to protect Randy Orton why would I put John Cena in that match? Why would I put Sheamus in? Why would I allow Roman Reigns to still be in there? I put Kane in this match for the very same reason I put everyone else in this match. Because it's what's best for business. I have created the most epic ladder match in the history of the WWE and one man will climb that ladder and one man will walk out of that arena as the undisputed WWE World Heavyweight Champion. That's a fact.
Booking details
WWE Money in the Bank will be shown on Sky Sports Box Office (channel 743) and Sky Sports HD Box Office (channel 752) at 1am on Sunday, June 29 (Monday morning).
WWE Money in the Bank will be repeated on Sky Sports Box Office (channel 743) BUT NOT Sky Sports HD Box Office (channel 752) between 9am, Monday, June 30 and 9pm, Saturday, July 5.
Repeats showing will last for three hours, with the final showing BEGINNING at 9pm on Saturday, July 5.
The event is priced at £14.95 for UK customers, €21.95 for customers in the Republic of Ireland.
Viewers can call 08442 410 888 from Tuesday, June 17 to book WWE Money in the Bank. (There may be an additional charge for telephone bookings).
You can book WWE Money in the Bank online from Tuesday, June 17  by visiting this link: https://my.sky.com/orderboxoffice/
You will be able to order WWE Money in the Bank by pressing the Box Office button on your remote. Select 'sports & events' and follow the on-screen instructions.
Cable customers should contact their local cable operator.