WWE Battleground: Weekend rivals Rusev and Jack Swagger have plenty in common
From managers to in-ring skills, there are many similarities...
Last Updated: 17/07/14 5:56pm
At first glance, Rusev and Jack Swagger seem very different.
One is from Eastern Europe and has only recently thrust himself to the forefront of the grappling world, while the other is a proud Oklahoman, a six-year veteran of WWE, and a former World Heavyweight Champion, United States Champion and Mr Money in the Bank.
WWE BATTLEGROUND
1am, Sun (Mon)
Live on Sky Sports Box Office
Yet if you dig beneath the surface, the two Superstars – who will go one-on-one at Sunday's Battleground pay-per-view on Sky Sports Box Office – have a fair bit in common, including strong pre-WWE CVs, in-ring style and a penchant for loudmouth managers.
So read on to see why Rusev and Swagger are more similar than you might think and then watch their Battleground scrap...
STRONG RESUMES
Plovdiv-born Rusev is a former rower and powerlifter, while he cut his teeth in the wrestling business when he was trained by Rikishi, the father of WWE Tag Team Champions The Usos, and Gangrel. Swagger, meanwhile, combined grappling with gridiron at high school and at University and certainly caught the eye between the ropes. The 6ft 7in Superstar placed highly in the NCAA Championships and was named an All-American in 2006 after recording 30 pinfalls in a season.
PATRIOT GAMES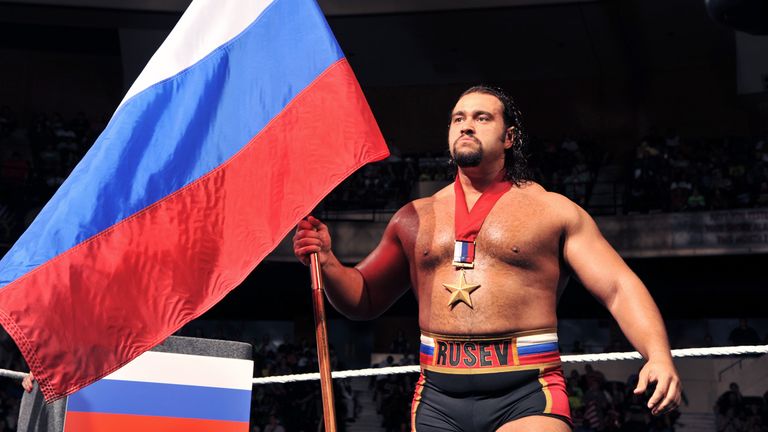 The Battleground rivals also love their countries, whether they were born in or moved to them. Rusev grew up in Bulgaria but has embraced Russian culture, donning red, white and blue-coloured trunks and becoming a Hero of the Russian Federation. Swagger may be even more nationalistic, though, as not only is he nicknamed The Real American and has an entrance theme called Patriot but he used to be accompanied to the ring by his mascot, the Swagger Soaring Eagle.
SIZEABLE BUT SWIFT
Rusev's stocky build and Swagger's lanky frame make them adept at power moves and hard to knock off their feet, but both demonstrate tremendous agility during their bouts, too. Rusev's jumping sidekick and spinning heel kick are perfect examples of his athleticism, while Swagger's Swagger Bomb and multitude of suplexes – German, wheelbarrow, and belly-to-belly, to name but three - prove he is not an archetypal plodding big man. Both Rusev and Swagger can go, as it were.
SUBMISSION STARS
Yet for all their rapid manoeuvres, The Super-Athlete and The Real American have something else in their arsenal, namely a devastating submission hold. Rusev's Accolade, a variation of the camel clutch, places immense pressure on his opponent's upper back, as his victims, including Rob Van Dam, Sin Cara, Zack Ryder and Big E, will testify. Swagger's Patriot Lock, which has shades of Kurt Angle's Ankle Lock, is equally venomous and has won him many matches.
MOUTHY MOUTHPIECES
While Rusev and Swagger's in-ring credentials cannot be questioned, it could be argued that both men have been elevated in the eyes of WWE fans by their rarely-quiet managers. Rusev switches into another gear when his female companion, Vladimir Putin loving, USA-bashing Lana urges him to "crush", while Swagger's career has ascended since he united with Zeb Colter, a man with strong opinions, magnificent facial hair, witty signs and a hatred of outsiders taking America for granted.
BATTLEGROUND BOOKING DETAILS
WWE Battleground will be shown at 1am, Sunday, July 20 (Monday morning) on Sky Sports Box Office (channel 743) and Sky Sports HD Box Office (channel 752).
WWE Battleground will be repeated on Sky Sports Box Office (channel 743) BUT NOT Sky Sports HD Box Office (channel 752) until 9pm on Saturday, July 26.
Repeats showing will last for three hours, with the final showing BEGINNING at 9pm on Saturday, July 26.
The event is priced at £14.95 for UK customers, €21.95 for customers in the Republic of Ireland.
Viewers can call 08442 410 888 to book WWE Battleground from Tuesday, July 8. (There may be an additional charge for telephone bookings).
You can book WWE Battleground online from Tuesday, July 8 by visiting this link: https://my.sky.com/orderboxoffice/
You can also order WWE Battleground at a later date by pressing the Box Office button on your remote. Select 'sports & events' and follow the on-screen instructions.
Cable customers should contact their local cable operator.