Paul Heyman: WWE star talks to skysports.com about his DVD and stellar career
Master manager not one for trawling through the past...
Last Updated: 04/08/14 8:52am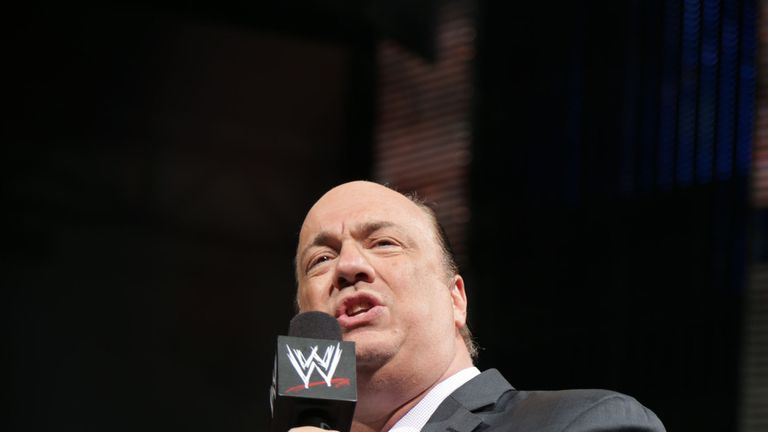 Paul Heyman is imploring you to watch his new DVD – even though he hasn't.
Ladies and Gentlemen, My Name is Paul Heyman chronicles the New Yorker's long and varied career in the wrestling industry, from his early days as a photographer, through to managing in WCW, co-founding ECW and serving as Brock Lesnar's advocate in WWE.
The DVD will be available to purchase in the UK from Monday, August 4 but, in an interview with skysports.com, Heyman revealed that he has not slipped the discs into his player for an advanced screening, claiming nostalgia is not for him.
However, 'The Mad Scientist' – who will accompany Lesnar to the ring for his WWE World Heavyweight Title encounter with John Cena at SummerSlam – has urged fans not to follow his lead and says purchasing one version of the documentary will not be enough.
"I have not watched this DVD because I am tortured by the mere thought of having to watch two hours of the past," said Heyman, who has also managed the likes of Rob Van Dam, Kurt Angle and Big Show.
"I am really bad at that as I am far too busy conspiring into the future to look back over my life.
"I appreciate those who are willing to look back on my career, though, so long as they understand that my ambition is to make sure they ain't seen nothing yet."
There are moments that are captured in the DVD extras that are so noteworthy, fascinating and profound.
Paul Heyman
Heyman continued: "That said, I have watched both the DVD and Blu-ray extras because I had no idea what was on them and it was something new for me to see.
"And while this is going to sound like a lot of hype – something I am guilty of – I think WWE has produced something that means you have to get both the DVD and Blu-ray discs.
"There are moments that are captured in the DVD extras that are so noteworthy, fascinating and profound, and there are things revealed on the Blu-ray extras that have been handled so candidly and honestly by WWE."
Stimulation
The DVD, which features contributions from many of Heyman's friends and foes, including Mick Foley, Stephanie McMahon and former ECW and WWE commentator Joey Styles, delves deep into the 48-year-old's myriad jobs in sports entertainment.
You'd think standing alongside Lesnar as The Anomaly shattered the Undertaker's undefeated streak at WrestleMania earlier this year would rank as a highlight, and that running the highly anarchic and always unpredictable ECW would be near the top of Heyman's achievement list, too.
But the man with one of the sharpest minds in professional wrestling history insists each new gig has been as adrenaline-charged as the last.
"My career as performer has been defined by advocating for Brock," said Heyman. "But asking if it has given me the biggest buzz is like asking a man which of his children is his favourite.
"Every aspect of my career has brought a unique exhilaration and stimulation which is hard to compare to the exhilaration and stimulation I receive from doing a different job.
"I can't tell you being an advocate or commentator gave me more pleasure than being a promoter or that being a promoter or writer gave me more pleasure than being a photographer.
 "But all of these different roles I have played have come at different points in my life and when I had the opportunity to pursue those roles they were all encompassing for me and 24/7, 365 jobs.
"Right now I am Brock's advocate and I can't imagine being anything else but when Brock has conquered the universe, I will pursue my next role with such a passion as I have everything else."
Magic
At the apex of Heyman's skillset, though, is his gift of the gab.
His acid-tongued promos – such as the one he delivered moments after Lesnar was announced as Cena's SummerSlam challenger – have become some of the most talked-about moments in WWE.
And Heyman says he became besotted by the world of professional wrestling after witnessing another magnetic performer open his mouth way back when.
"Watching "Superstar" Billy Graham come alive whilst talking about Bruno Sammartino to a young interviewer named Vince McMahon on Championship Wrestling," replied Heyman, when pressed for the moment he developed the grappling bug.
"I saw Graham just project himself – it felt like he was coming through the television – and his magic, charisma and extraordinary presence from the moment I saw him had me hooked on wrestling.
"I haven't looked back."
'Ladies and Gentlemen, My Name is Paul Heyman' is a three-disc DVD and two-disc Blu-ray which is due for UK release in HMV and Amazon.co.uk on August 4.
SummerSlam will be shown live on Sky Sports Box Office and Sky Sports HD Box Office at 1am, on Sunday (Monday) August 17, with repeat programmes available until the following Saturday.
SummerSlam booking details
WWE SummerSlam will be shown at 1am on Sunday, August 17 (Mon) on Sky Sports Box Office (channel 743) and on Sky Sports HD Box Office (channel 752).
WWE SummerSlam will be repeated on Sky Sports Box Office (channel 743) BUT NOT Sky Sports HD Box Office (channel 752) until 9pm on Saturday, August 23.
Repeats showing will last three hours, with the final showing BEGINNING at 9pm on Saturday, August 23.
The event is priced at £14.95 for UK customers, €21.95 for customers in the Republic of Ireland.
Viewers can call 08442 410 888 from Tuesday, August 5 to book WWE SummerSlam. (There may be an additional charge for telephone bookings).
You will be able to book WWE SummerSlam online from Tuesday, August 5 by visiting this link: https://my.sky.com/orderboxoffice/
You can also order WWE SummerSlam at a later date by pressing the Box Office button on your remote. Select 'sports & events' and follow the on-screen instructions.
Cable customers should contact their local cable operator.