Paul Heyman says his client Brock Lesnar is the greatest WWE Superstar in history
'Beast Incarnate will beat John Cena the way he beat The Undertaker'
Last Updated: 11/08/14 11:47am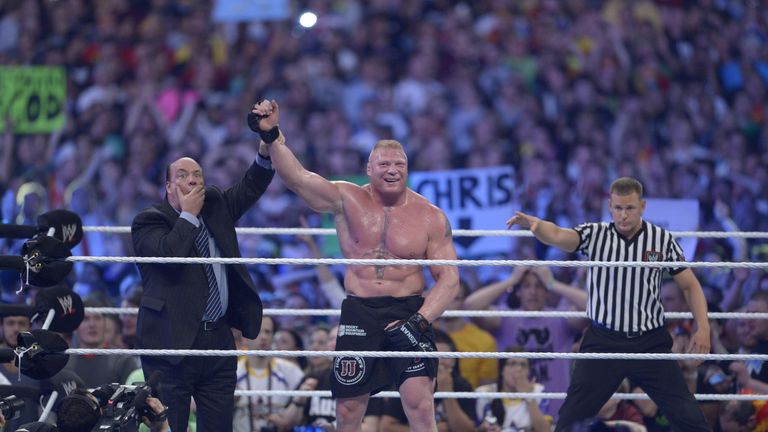 Randy Orton is WWE's Viper, Stone Cold was its Texas Rattlesnake and, according to Paul Heyman, Brock Lesnar is its GOAT.
Heyman is not referring to the farmyard animal but is instead suggesting – or bleating on, if you will – that his client is the 'Greatest of All Time'.
WWE SUMMERSLAM
1am, Sun (Mon), Aug 17
Live on Sky Sports Box Office
That's quite a bold statement considering the wrestling industry has housed such legends as Andre the Giant, Shawn Michaels, Hulk Hogan, Bruno Sammartino, The Rock, Bret Hart and Ric Flair.
But Heyman is sticking to it and says that The Beast Incarnate – who stunned WWE to its very core when he destroyed The Undertaker's undefeated streak at WrestleMania in April – can also lay claim to an even bigger accolade.
"I would humbly suggest that Brock is not only the greatest WWE Superstar of all time but also the greatest pay-per-view superstar of all time," Heyman told skysports.com.
"It takes a very unique mindset to exploit one's own physical ability to the point where you can make the declaration that you are the only human being on the face of the planet to have been an NCAA Division 1 Heavyweight Champion, an Undisputed UFC Heavyweight Champion and a WWE Champion.
"No other person has ever held two of those accolades, let alone all three.
"There are supremely gifted athletes in this world but none that have the mindset to use their talents to that degree as Lesnar.
"The Brock you see on TV is a toned-down version of the Brock you see behind the scenes but he is exactly as we portray and proclaim him to be: a conqueror.
"And to be tied in with him for his entire run in sports entertainment and to be intricately woven into a career which is unmatched in WWE history, is something I can't really put into words."
Conquered
Lesnar took a well-earned rest after his record-altering triumph over The Undertaker at The Showcase of the Immortals, leaving Heyman free to temporarily manage Cesaro.
But the dynamic duo is back together now and will be hoping to depart SummerSlam – an event you can see live on Sky Sports Box Office – with the WWE World Heavyweight Championship.
CLICK HERE TO ORDER WWE SUMMERSLAM
Lesnar will tackle current titlist John Cena inside Los Angeles' Staples Center on August 17, just over two years since he lost to the Cenation Leader in a brutal Extreme Rules encounter.
Heyman insists The Anomaly will reverse the result second time around and says that, inside the home of basketball franchises LA Clippers and LA Lakers, Lesnar will bounce Cena all over the place.
"I am still giddy over the fact that I get to say for the rest of my life: 'My client, Brock Lesnar, broke the Undertaker's undefeated streak at WrestleMania'," added the New Yorker.
"Brock, however, is like a shark in the water on a feeding frenzy and as soon as the referee's hand hit three in New Orleans the first thing that registered in his brain was: 'You have conquered The Undertaker, now move on to what's next'.
"And what's next is not just winning the WWE World Heavyweight Title, it's conquering John Cena in the process.
"This is a deeply personal fight for Brock.
"Winning the championship requires minimal strategy – Brock hoists Cena up on his shoulders, Brock delivers his F5 to Cena, Brock pins Cena.
"But Brock is determined to deliver to Cena the same thrashing he delivered to The Undertaker at WrestleMania after which The Undertaker was not only beaten but victimised, hospitalised and not heard from since."
SummerSlam booking details
WWE SummerSlam will be shown at 1am on Sunday, August 17 (Mon) on Sky Sports Box Office (channel 743) and on Sky Sports HD Box Office (channel 752).
WWE SummerSlam will be repeated on Sky Sports Box Office (channel 743) BUT NOT Sky Sports HD Box Office (channel 752) until 9pm on Saturday, August 23.
Repeats showing will last three hours, with the final showing BEGINNING at 9pm on Saturday, August 23.
The event is priced at £14.95 for UK customers, €21.95 for customers in the Republic of Ireland.
Viewers can call 08442 410 888 from Tuesday, August 5 to book WWE SummerSlam. (There may be an additional charge for telephone bookings).
You will be able book WWE SummerSlam online from Tuesday, August 5 by visiting this link: https://my.sky.com/orderboxoffice/
You can also order WWE SummerSlam at a later date by pressing the Box Office button on your remote. Select 'sports & events' and follow the on-screen instructions.
Cable customers should contact their local cable operator.