Tim Prendergast makes successful transition to marathon in London
Sky Sports Living for Sport Athlete Mentor Tim Prendergast reflects on his marathon debut in London.
By Oli Burley - @SkySportsOli
Last Updated: 23/04/13 12:43pm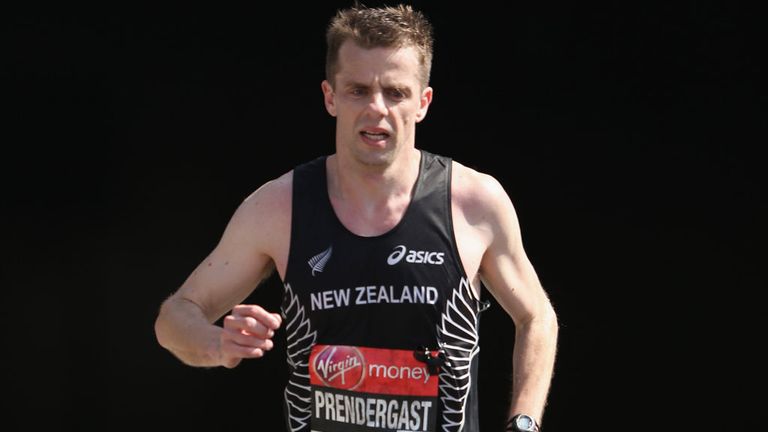 The Sky Sports Living for Sport mentor, who is partially blind, finished just outside of the medals at London 2012 despite running personal bests in the Men's 800m and 1,500m T13.
So with a gold medal already in his locker from the 2004 Games in Athens, Prendergast decided to make the transition from middle-distance to marathon running in 2013 starting in his adopted home of London - even though he'd never run 26.2 miles before.
"It was so amazing to compete in the Paralympics last year," said the New Zealander. "I ran really well but finished fifth and sixth, which made me realise that winning medals in Rio in 2016 was going to be really tough.
"A couple of months after the Games they announced that the London Marathon was going to double as the Paralympic World Cup. I'd always been curious about what it's like to run a marathon and now I'm so glad my request for a wildcard entry was granted because it was an amazing day.
"Last year 80,000 people were cheering me in the Olympic Stadium for three or four minutes but on Sunday it felt like I had hundreds of thousands of people cheering me on for almost three hours!
"There were some tough moments but I didn't crash and burn so I was happy with my time even if it was outside my target of two hours 45 minutes."
Awesome
Prendergast - who has lost 95 per cent of his sight - completed the course in an impressive two hours 48 minutes and 34 seconds despite having previously only raced in a couple of half-marathons.
After overcoming some unique challenges along the route, he remains hungry to achieve his career goal of going sub two hours 30 minutes.
He reflected: "I encountered some minimal problems along the way but they were negated by all of the support I received.
"I was unable to see the mile markers, which made things a bit tricky, but there is a blue line which runs along the route of the entire course and I was able to track that most of the way.
"There were a couple of tunnels on the route and even though they are lit, I suffered a total blackout so I stopped at a standstill for four or five seconds until my eyes got a bit used to the dimmer light. I also had a scheduled drink station at 18 miles but I missed them holding the bottle!
"Despite all that it was a very special experience. As my category set off half-an-hour before the main field it meant we got a lot of support and there were plenty of shouts of 'Go Kiwi!' which was awesome!"
Less than 24 hours later Prendergast was back on the road for Sky Sports Living for Sport, leading a session at St Edmunds in Canterbury.
In this year of transition, some things don't change.
The Sky Sports Living for Sport initiative, now in its tenth year, is a free initiative that uses the life-changing stories and expertise of athlete mentors to inspire young people to learn new skills and improve their lives. Around 30,000 young people a year participate in the programme, which reaches one third of all secondary schools in Britain and has just launched in Ireland.
To find out more about Sky Sports Living for Sport visit www.skysports.com/livingforsport. For more information on Sky's Bigger Picture initiatives click here.