Charlie Webster's Challenge Day 6: Harry Redknapp makes a big deal of my visit!
Plus, don't miss your chance to win a signed Sky Bet Football League shirt!
By Charlie Webster - @CharlieCW
Last Updated: 31/01/14 7:01pm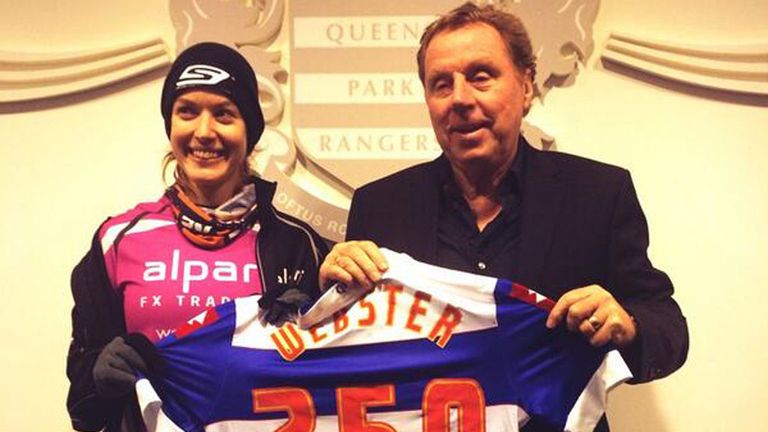 From Sunday, January 26 to Saturday, February 1, she will be running a total of 250 miles and visiting 40 football clubs across England to help raise funds for Women's Aid and encourage football clubs, players and fans to unite in the fight against domestic violence.
She will be sending us a blog direct from her extraordinary challenge each day:
Day 1 | Day 2 | Day 3 | Day 4 | Day 5
Day 6 - Watford, Wembley, Brentford, QPR, Fulham, Chelsea, AFC Wimbledon
I think I might have signed for QPR!
It's been a manic Deadline Day and after visiting Watford, Brentford, QPR, Fulham and Chelsea - with a stop off at Wembley along the way - I've got a fair few playing commitments!
Harry Redknapp came out to see me just after he'd signed Guilherme Dellatorre and presented me with a signed shirt - but I don't think he's expecting me to play tomorrow against Burnley.
I started the day at Watford where Radio 1's Scott Mills and Chris Stark came to see me after sleeping with my leg elevated again to try and drain the fluid.
I still felt quite rough but once I started running I just improved throughout the day and my leg is almost starting to drain itself while I'm running.
En route from Watford to Wembley I had to have my calf measured repeatedly to make sure it wasn't swollen too much.
Members of the Sherfield Park Runners joined me from Watford to Wembley and we had great fun singing chants as we were running along the road.
When I got to Wembley it really hit me how far I've come on this Challenge and I managed to pick the pace up as we approached Wembley Way.
I got onto the pitch there and checked out the home dressing room before being seen by a doctor who said that I've pulled the tendon that connects the very top of my foot to my leg.
I've got the all-clear to carry on - and finish the challenge on Saturday - and it was great to be joined on the QPR to Fulham leg by the comedian Roycey.
Fulham were great and gave me a signed shirt and then after an appearance on Chelsea TV the club let me have an ice bath in one of their hotel rooms.
I've got to get up at 3am on Saturday for a 5am start at Charlton, from where I'm running to Arsenal, Tottenham and West Ham.
The great news is that our very own Mr Deadline Day Jim White has agreed to join me on the road from the Emirates to White Hart Lane so let's hope he doesn't overdo it on Sky Sports News tonight!
Charlie x
P.S. Don't forget that Sky Bet are putting a signed shirt up for auction for each of the 25 Football League clubs I visit on my run. To find out how to bid for one, just click here!
Support Charlie
Take a look at the route I am running on www.facebook.com/charliesbigchallenge.
You can find out more about Charlie's Big Challenge here www.justgiving.com/charliesbigchallenge.
You can follow Charlie's progress on Twitter at @CharlieCW.