Charlie Webster's Challenge Day 5: A&E trip is a real drain but I'm battling on
Plus, don't miss your chance to win a signed Sky Bet Football League shirt!
By Charlie Webster - @CharlieCW
Last Updated: 30/01/14 5:42pm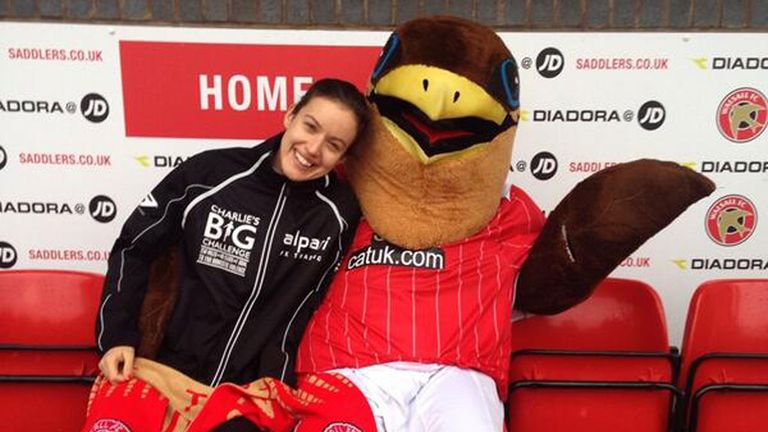 From Sunday, January 26 to Saturday, February 1, she will be running a total of 250 miles and visiting 40 football clubs across England to help raise funds for Women's Aid and encourage football clubs, players and fans to unite in the fight against domestic violence.
She will be sending us a blog direct from her extraordinary challenge each day:
Day 5 - Wolverhampton, Walsall, West Brom, Aston Villa, Birmingham City, Coventry Sphinx
I should be in hospital right now but there's no chance that's happening!
It's been another eventful 24 hours but more of that in a moment after I've told you about the amazing reception I had at Sheffield United last night.
It was so nice because the players turned up even though their game was postponed and they wore my Challenge t-shirt and even presented me with my own shirt with my name on.
The Sheffield United chef then cooked me an awesome dinner of shepherd's pie and proper chips, with veg and gravy.
The hospitality was amazing and because the match was postponed I'm going to do a presentation on the Bramall Lane pitch at the beginning of March when I hope to announce how much I've raised.
I had problems with my foot all day on Wednesday and by the end I desperately needed to get my trainer off; my support crew kept tying my trainer looser and looser but my calf ballooned to twice the size it normally is and I started to lose feeling in my foot.
I was really chuffed with how I did during the day because it was a mammoth one in terms of distance (especially as I was still running with a virus).
But when we got back to the hotel we had a team meeting and my team told me that I had to go to A&E straight away because they thought I might have 'compartment syndrome', which left untreated can be really serious and in some cases leads to long-term limb damage or even amputation.
I really didn't want to go because in my own head I'm just trying to get through this Challenge but my team were rightly concerned about my safety.
So I went to hospital in Dudley and realised it was serious when they said that they wanted to admit me. The medics told me that I really shouldn't carry on with the run but I told them how desperate I am to complete my challenge - I've worked so hard and I've been through so many ups and downs that I'd be devastated if I didn't.
My physio wanted me to stay in overnight but I decided to go back to the hotel and get a couple of hours sleep. I slept with my leg extremely elevated and I could feel the fluid draining away in the night, which was really weird.
My leg was still quite swollen this morning and I had dropped foot, which means I couldn't lift my foot at all, and the medical advice was that if I run on it I could risk being admitted to hospital in a bad way.
So I've spent a lot of today trying to drain the fluid from my leg by keeping it elevated and I've got plenty of tape on it too, to ease the pressure. It's still a real struggle to get my trainer on but hopefully I can sort myself out today and then I'm hoping to resume running on Friday and complete my Challenge on Saturday as planned.
The doctors wanted me to rest today but I insisted that we still went to all of them so Wolves was my first stop and then we headed onto Walsall and West Brom; the mascots and fans at each have been brilliant so I'm expecting big things from Aston Villa and Birmingham City!
I'm going to speak at a fundraiser at Coventry Sphinx tonight and then I'm going straight to bed to make sure that I'm ready to run tomorrow.
The plan is to keep battling on regardless - and your messages of support and donations play a big, big part in that so make sure you keep them coming!
Charlie x
P.S. Don't forget that Sky Bet are putting a signed shirt up for auction for each of the 25 Football League clubs I visit on my run. To find out how to bid for one, just click here!
Support Charlie
Take a look at the route I am running on www.facebook.com/charliesbigchallenge.
You can find out more about Charlie's Big Challenge here www.justgiving.com/charliesbigchallenge.
You can follow Charlie's progress on Twitter at @CharlieCW.