Sky Sports views
See what our experts have been saying on England's batsmen, Fernando Torres, Everton and more...
Last Updated: 14/11/12 5:35pm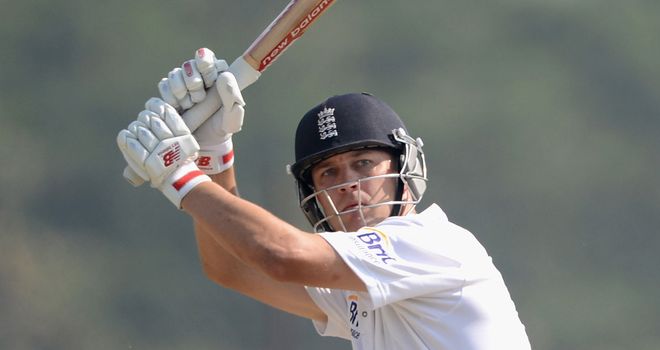 Graeme Fowler on why England's batsmen must keep it simple in India
"Because players are so multi-faceted these days and play so many different formats, it might sometimes be difficult for them to get into a Test match mind-set, but when England's batsmen do that we certainly have the players with the patience and ability to bat for a length of time - as long as they keep it simple.
"There is a lot of talk about trying to dominate bowlers and get on top of them but, for me, the way to dominate in India is by not getting out as it frustrates the Indians and they will eventually do something different. But if you try to manipulate things or do something extra, they know you will make a mistake."
Neville Southall on why January will be a huge month for Everton
"I think Everton have proved that if you give a manager time and money and have patience with him, he can produce a team. It is a shining example to all Premier League chairmen who think results will come because you change your figurehead, when they actually come because you stay loyal to your manager. It has taken David Moyes 10 years to produce this team and he is not quite finished yet.
"I am sure he will want to add in the transfer window to make sure Everton finish in that top four spot, so January will be a massive month; if the club buy it will send out the right message to the fans that they are serious about aiming for the Champions League, but if they sell guys like Marouane Fellaini it will be a massive kick in the teeth. I would like them to sign a striker and maybe a centre-half and a real outstanding midfielder who can create things, too. They have got the basis of a great squad but they just need to push on now."
Ruud Gullit on whether Chelsea may be looking to replace Fernando Torres
"When I think of Fernando Torres I have in my mind images of what he has done in the past with Liverpool and Atletico Madrid, which was unbelievable. But for some reason he can't do it at Chelsea and I don't know why. It is a mystery but if he cannot do it Chelsea may have to do something else and Atletico's Radamel Falcao is a very good striker..."
Michael Atherton on why playing in India is such a tough test for visiting teams
"You are in intense heat and alien pitch conditions, which are very arid and bare and allow, at some stage, for spin. Everything is in favour of the home team who are used to the conditions and India's record at home is absolutely outstanding.
"They have only lost three of their last 20-odd Test matches and don't lose series here very often, so it's about as tough a challenge as it comes in cricket but is something to look forward to. Plus, it is a fabulous place to play; there is talk we might not get many people in Ahmedabad, but it you get 100,000 in Calcutta there is really no better experience."
Neville Southall on why the Heysel disaster curtailed Everton's success
"I think we were on the brink of greatness (after winning the English top flight in 1986-87). We had a great team but then we lost our manager Howard Kendall (pictured) to Athletic Bilbao and Gary Stevens and Trevor Steven to Rangers - three people that were major to us - because they wanted European football (that English teams were denied after Heysel). I believe we would have won the European Cup the following season as I didn't see any other team beating us, while we would have added more players and got more money in."
Alan McLaren on Hearts being given a stay of execution by the HMRC
"It would have been a big ask to get £450,000 by Thursday so it is a common sense move that the club have been given until December 3 to pay their tax bill; Hearts have money due in from transfers and a live game coming up, so the money they receive from that will go directly to the taxman. I think everything will be paid in the short term but you have to look long term as while some players have deferred their wages they have to be paid at some point.
"It is good that the players are helping out, but the club needs new ownership; there is a potential fan ownership scheme in place but they would want the club debt free and would ask the current owners, inclduing Vladimir Romanov (pictured) to wash away £26million. There is still a long way to go, though, and the taxman has only given the club a bit of breathing place, so it is still a worrying time for people."
Terry Gibson on AFC Wimbledon meeting MK Dons in the FA Cup
"It was inevitable at some stage that it was going to happen; it's a game a lot of people have been waiting for and it's going to be massive. The circumstances under which the two clubs have been formed isn't ideal but importantly for AFC Wimbledon, where my allegiances lie, it is a chance to get through to the third round of the FA Cup and get one of the big boys.
"AFC's rise through the divisions has been incredible: a club started by the supporters getting five promotions in nine seasons and becoming a Football League outfit. To achieve what they've done in such a short space of time is a phenomenal achievement, but I don't have a lot of animosity towards the Milton Keynes supporters and staff as it was a group of other people who some years ago decided in their wisdom to move a football club to another part of the country, effectively destroying Wimbledon Football Club. I understand the feeling but the AFC fans should support the team and be proud of what they've achieved over the years."
Click here to see what our experts were saying on Tuesday
Click here to see what our experts were saying on Monday