Oscar Pistorius bail hearing adjourned after fourth day with Hilton Botha taken off case
Oscar Pistorius will spend at least one more night in police custody after his bail hearing was adjourned on Thursday
Last Updated: 22/02/13 8:32am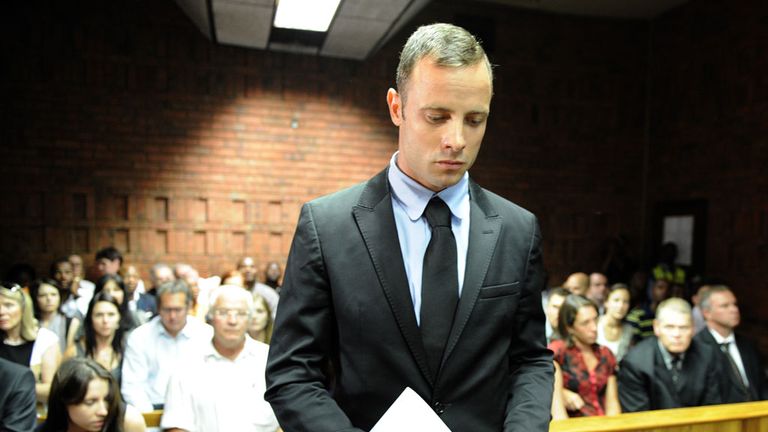 Hilton Botha was called to the witness stand by magistrate Desmond Nair after it was revealed Botha faces charges of seven counts of attempted murder himself for an incident in October 2011.
Those charges, which had previously been dropped, have been reinstated by the Director of Public Prosecutions and when asked to explain the charges, Botha told the court the case was dropped, he was not drunk and was chasing suspects.
However, national police commissioner General Riah Phiyega confirmed after the adjournment that Botha had been dropped from the case.
Pistorius has admitted shooting Reeva Steenkamp, 29, but has denied the charge of premeditated murder, claiming he thought she was a burglar or burglars, who were in the bathroom.
In considering the application for bail, Nair asked the defense: "Do you think there will be some level of shock if the accused is released?"
Defense lawyer Barry Roux responded: "I think there will be a level of shock in this country if he is not released."
Earlier Thursday, Nair questioned Botha over delays in processing records from phones found in Pistorius' house.
Roux then continued to cast doubt on the state's investigation, following up after Botha conceded on Wednesday that police had left a 9 mm slug in the toilet where Steenkamp died, had lost track of illegal ammunition found in the home and that Botha had walked through the scene without protective shoe covers.
"The poor quality of the evidence offered by investigative officer Botha exposed the disastrous shortcomings of the state's case," said Roux. "We cannot sit back and take comfort that he is telling the truth."
But Prosecutor Gerrie Nel said that even on his own version of events, Pistorius deliberately killed a burglar and could not have meant to fire four shots to do anything other than kill. The defence had not proved the exceptional circumstances necessary for the granting of bail, Nel said.
Meanwhile, Nike has confirmed it has suspended its contract with Pistorius.
In a statement, the company said: "We believe Oscar Pistorius should be afforded due process and we will continue to monitor the situation closely."