Stoner storms to title
Casey Stoner clinched the MotoGP world championship title after claiming a fifth straight win at Phillip Island.
Last Updated: 16/10/11 12:50pm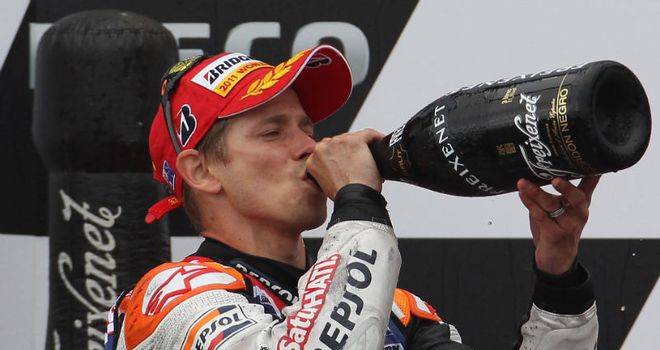 Casey Stoner clinched the MotoGP world championship title after taking a fifth straight win in front of his home crowd at the Australian Grand Prix.
The Repsol Honda rider only had to finish in sixth position to take the crown after his nearest rival Jorge Lorenzo was ruled out of the race after crashing in the warm-up.
Lorenzo crashed at high speed on Sunday morning and has reportedly lost the tip of one of the fingers on his left hand.
Stoner, who was celebrating his 26th birthday, admitted that he did not want to win his second title under such circumstances but was nevertheless delighted with the achievement.
"It's not the way you want to win a championship," Stoner said after the race.
"But we had a lot of momentum going into the race. To win a fifth race here, a series title, and on my birthday, nothing gets better than today."
The Australian led the race away from pole and never surrendered his advantage, with the Gresini Honda of Marco Simoncelli finishing second and Stoner's team-mate Andrea Dovizioso in third.
There were some tense moments at the end of the race when heavy rain began to fall with about three laps remaining, leading to a string of crashes.
Stoner played it cool and stayed upright to win the race though, while Dovizioso lost second place in the closing stages to his fellow Italian Simoncelli.
Dani Pedrosa made it three Repsol Hondas in the top four while Colin Edwards completed the top five.