Fast finish lifts Latvala
Finland's Jari-Matti Latvala moved into a commanding lead after the opening day of the Wales Rally GB.
Last Updated: 15/09/12 8:58pm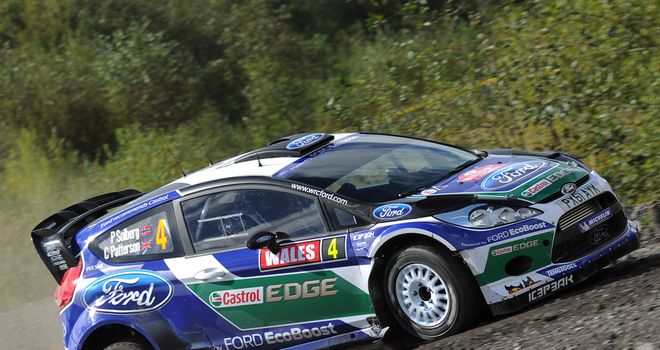 Finland's Jari-Matti Latvala moved into a commanding lead after the opening day of the Wales Rally GB.
The factory Ford driver, who claimed his only victory of last year in this event, won the final four of the six stages.
Ford World Rally team-mate Petter Solberg took the initial two stage wins to lead eight-times champion Sebastien Loeb by 2.3 seconds early on, with Latvala fourth.
Finn Latvala ran wide at one point on stage two, clipping a pile of logs which saw him cross the line with a piece of wood wedged between a rim and tyre, so dropping to fourth overall, 4.4secs down.
But then Latvala took control on his favourite stage of the rally, the first run through Myherin, and over a distance of 27.88km, as Solberg lost 9.3secs.
Latvala then made it a clean sweep of the afternoon stages to open up a 12.1secs cushion to Solberg, with Loeb a distant 21.3secs adrift as he struggled in the more slippery conditions following showers.
A naturally delighted Latvala said: "I've been trying to push and I'm pleased with my performance. I haven't had this feeling for a long, long time."
Loeb, who can clinch his ninth WRC crown in Wales given he has a 54-point cushion at present over Citroen World Rally team-mate Mikko Hirvonen with three rounds remaining after the current event, has admitted to an "impossible" fight against the Ford pairing.
Loeb, however, shrugged off his sluggish performance in comparison to the Fords, and seems content to settle for a podium place after a run of five consecutive wins, and with his home event in France up next.
Flat out
"I was flat out everywhere, but we have no chance (against the Fords) because the grip is so low," said Loeb. "But I'm not concerned. I don't need to win."
Hirvonen lies fifth, 53.8secs adrift of Latvala, with the two Citroen drivers sandwiched either side of Norwegian Mads Ostberg for Adapta Ford.
Behind Hirvonen come M-Sport Ford duo Evgeny Novikov and Thierry Neuville, while in his first rally since the Monte Carlo event in January, Britain's Matthew Wilson is running ninth, three minutes and 17 seconds adrift.