World Rally Championship: Amy Williams ready for new challenge
Olympic skeleton bobsleigh gold medallist Amy Williams will make her World Rally Championship debut next week.
Last Updated: 08/11/13 4:24pm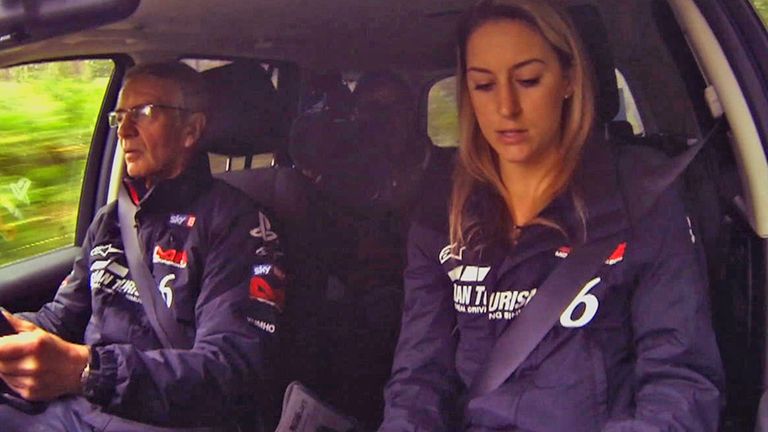 Having hurled herself down the world's most notorious ice chute and emerged out of the other end with Olympic gold, there are few sporting challenges left that can faze self-confessed thrill-seeker.
And the 31-year-old from Bath admits even charging round the rugged Welsh countryside as co-driver in a 125mph rally car cannot quite match the pure speed rush gained by going nose to nose with a skeleton bobsleigh track.
Williams' fearlessness in her pursuit of fresh ambitions perhaps indicates why she has risen so quickly in her new chosen sport.
Williams will partner Sky Sports' Formula One analyst Tony Jardine in the race having earned her place in the line-up by successfully completing the required four national events along with Jardine last month.
Williams said: "I think I have taken to it naturally and in some ways there are parallels with skeleton that have helped me - it still doesn't feel as fast as being on a sled.
"I have definitely got the skills in terms of the quick decision-making and thinking ahead, and I think that has given me an advantage. Having said that it has been a really steep learning curve for me."
Williams admits she still has some sadness over her injury-enforced retirement from skeleton just a year after she rose to the occasion in Vancouver, where she became Great Britain's first individual Winter Olympic gold medallist in 30 years.
And while she will be a part of next year's Sochi Games in her role as a British Olympic Association ambassador, there will still be a part of her wishing she was pitting her wits against the best on the track.
No regrets
"I don't have any regrets but I can't say it's not going to be hard watching other people compete," said Williams.
"I was forced to stop the sport because of my injuries and I still feel I could have given more to the sport and come back and got another medal. But equally having won the medal it gave me the extra push to stop when I did."
Future adrenaline-junkie plans are currently on hold for Williams as she prepares for her latest big challenge, and she is realistic enough to accept another major title push - for the time being at least - is not on the agenda.
The Wales Rally - which starts with three tough night stages in Snowdonia and Denbighshire following the start ceremony in Conwy - is reknowned as one of the most gruelling on the global circuit.
"Every rally so far has been about getting to the finish line because I needed to get the autographs in order to get my licence to compete," said Williams.
"Now we have actually qualified we have a huge task in front of us. We have night stages and three day stages, and the two days of reccying the route is going to be a big challenge in itself.
"I'll be competing with the big boys this time and to even be in the same line-up as them is a privilege. I think both myself and Tony would say that the aim is to get to the finish line with a smile on our faces and still being friends."