Alex Ferguson looks at the future for gay NFL prospect Michael Sam
Our college football expert Alex Ferguson assesses Michael Sam's decision to come out as gay.
Last Updated: 12/02/14 4:48pm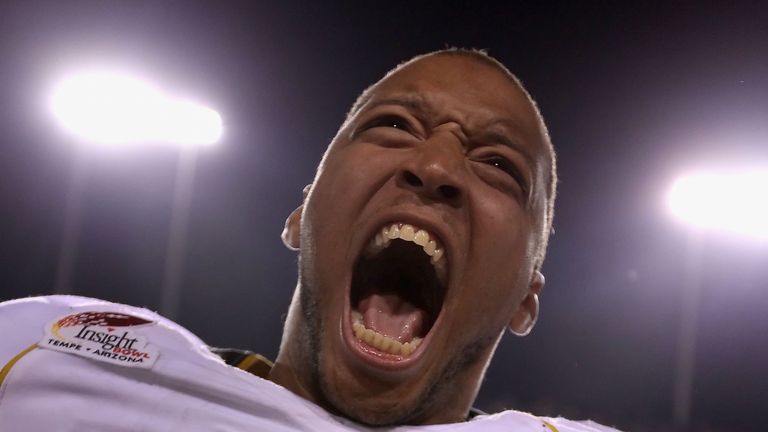 How will you feel if you're the guy cheering on your defence, and Sam does something outrageously good? Will you stop? Will it matter that he's gay?
Because come August, America, you're going to have to deal with the fact that Sam, who's going to be playing at linebacker or defensive end (his size makes it quite the quandary for NFL scout talents) is pretty good.
He's battle-tested. He played on Missouri's defensive line for all four years at Missouri, his university. 2013 was a sparkler - he had 48 tackles - including 19 tackles for loss - and 11-1/2 sacks. He frightened the life out of some of the best offensive linesmen in college football.
Sam's got a non-stop motor, hasn't ended up in the treatment room for long paths of his career, and is potentially one of the more under-the-radar defensive prospects to appear in the 2014 NFL Draft in New York in April.
But instead of flying under-the-radar, Michael Sam decided that he wasn't ashamed. "I am an openly proud, gay man", he told ESPN's "Outside The Lines" programme.
"I understand how big this is," he said. "It's a big deal. No one has done this before. And it's kind of a nervous process, but I know what I want to be... I want to be a football player in the NFL."
Media
The announcement exploded on social media and digital media, including in the UK. Most people put out notes of support, including legends like Deion Sanders.
But football-wise the naysayers are suddenly worried that Sam's sack count last season (11-1/2) isn't enough. It was against "garbage competition", according to NFL sources talking to SI.com.
You know, forgetting the great plays he made against the good competition in college football last year. The guy was immense last year. And would the "garbage competition" have mattered so much if Sam hadn't just come out?
I wonder if some GMs will be thinking: "If I don't get Michael Sam, I don't have to put up with dumb protests or player and fan reaction to having a gay man on the team, and how that might hurt team chemistry and income down the road".
Mike Tanier, writing for Sports On Earth, said Sam could have problems for other reasons - because he's a "Tweener".
That means he's "too small for defensive end and too inexperienced for outside linebacker... Life is hard for tweeners, unless they have 4.5 speed or the agility of a samurai (Sam has neither), regardless of their personal lives."
And whether he's a 'tweener' or just a guy making adjustments you can be sure that every play that Sam makes from the NFL Combine in will suddenly be analysed, over-analysed, and over, over-analysed, and given the tag: "America's first-ever gay NFL player" ad infinitum.
And it will matter because it's news. It's news in America because 16 out of 50 states currently legalise same-sex marriage. It's news in America because in the world of big-time professional sports, no-one's openly gay.
For me, I don't care whether Michael Sam's gay or straight. If he can tackle (which would make a lovely change to a lot of NFL defensive players right now), then the GMs should draft him.
The league always needs a good defensive player.