2013 America's Cup: Schedule
Don't miss any of this year's America's Cup with Sky Sports' extensive schedule.
Last Updated: 12/09/13 10:53am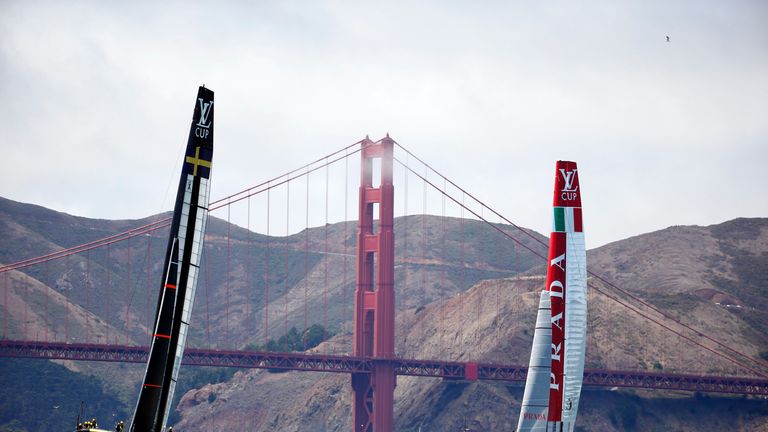 Sky Sports will be showing more live coverage of the America's Cup than ever before. Coverage of the 34th America's Cup Finals, the oldest trophy in international sport will be starting on Saturday.
We will broadcast the Finals live, from September 7-21. Watch some of the best sailors racing in the world's fastest boats at the 34th America's Cup Finals in San Francisco.
The America's Cup Defender's, Oracle Team USA will race against the winners of the Louis Vuitton Cup, Emirates Team New Zealand in a first to 9 race competition. Sir Ben Ainslie, the most decorated sailor in Olympic history, will add regular insight throughout coverage of the finals.
Races 1 & 2 - 07.09 LIVE 07/09/2013 21:00:00 Sky Sports 4HD
Races 1 & 2 -07.09 Highlights 08/09/2013 09:00:00 Sky Sports 4HD
Races 1 & 2 - 07.09 Highlights 08/09/2013 14:30:00 Sky Sports 4HD
Races 3 & 4 - 08.09 LIVE 08/09/2013 21:00:00 Sky Sports 4HD
Races 3 & 4 - 08.09 Highlights 09/09/2013 09:00:00 Sky Sports 4HD
Races 3 & 4 - 08.09 Highlights 09/09/2013 12:00:00 Sky Sports 4HD
Races 3 & 4 - 08.09 Highlights 09/09/2013 17:30:00 Sky Sports 3HD
Races 5 & 6 - 10.09 Highlights 11/09/2013 09:00:00 Sky Sports 4HD
Races 5 & 6 - 10.09 Highlights 11/09/2013 12:00:00 Sky Sports 4HD
Races 7 & 8 - 12.09 LIVE 12/09/2013 21:00:00 Sky Sports 4HD
Races 7 & 8 - 12.09 Highlights 13/09/2013 09:00:00 SS4 HD
Races 7 & 8 - 12.09 Highlights 13/09/2013 12:00:00 SS 4HD
Races 9 & 10 - 14.09 LIVE 14/09/2013 21:00:00 Sky Sports 3HD
Races 9 & 10 - 14.09 Highlights 15/09/2013 09:00:00 SS 4HD
Races 9 & 10 - 14.09 Highlights 15/09/2013 15:30:00 SS 4HD
Races 11 & 12 - 15.09 LIVE 15/09/2013 21:00:00 SS 4HD
Races 11 & 12 - 15.09 Highlights 16/09/2013 09:00:00 SS 4HD
Races 11 & 12 - 15.09 Highlights 16/09/2013 12:00:00 SS 4HD
Races 13 & 14 - 17.09 LIVE 17/09/2013 22:00:00 Sky Sports 4HD
Races 13 & 14 - 17.09 Highlights 18/09/2013 10:00:00 Sky Sports 4HD
Races 13 & 14 - 17.09 Highlights 18/09/2013 12:00:00 Sky Sports 4HD
Races 13 & 14 - 17.09 Highlights 18/09/2013 15:00:00 Sky Sports 4HD
Races 15 & 16 - 19.09 LIVE 19/09/2013 21:00:00 Sky Sports 4HD
Races 15 & 16 - 19.09 Highlights 20/09/2013 10:00:00 Sky Sports 4HD
Races 15 & 16 - 19.09 Highlights 20/09/2013 12:00:00 Sky Sports 4HD
Races 15 & 16 - 19.09 Highlights 20/09/2013 15:00:00 Sky Sports 4HD
Races 17 - 21.09 LIVE 21/09/2013 21:00:00 Sky Sports 3HD
Races 17 - 21.09 Highlights 22/09/2013 10:00:00 Sky Sports 4HD