Charlie Webster's Challenge Day 4: steely resolve on the road to Sheffield
Plus, don't miss your chance to win a signed Sky Bet Football League shirt!
By Charlie Webster - @CharlieCW
Last Updated: 29/01/14 5:01pm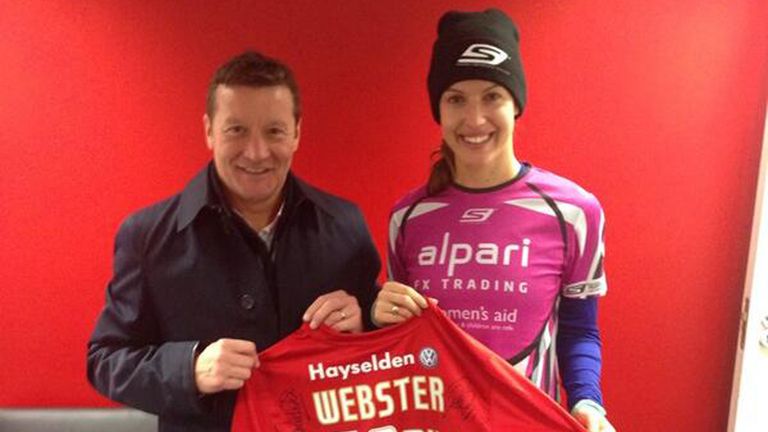 From Sunday, January 26 to Saturday, February 1, she will be running a total of 250 miles and visiting 40 football clubs across England to help raise funds for Women's Aid and encourage football clubs, players and fans to unite in the fight against domestic violence.
She will be sending us a blog direct from her extraordinary challenge each day: Day 1 | Day 2 | Day 3
Day 4 - Barnsley, Doncaster, Rotherham, Sheffield Wednesday, Sheffield United
I feel like a different person today!
Yes, I'm still hurting but for the first time on this challenge I've actually had an appetite and have been able to eat some solids so I'm a lot more alert. I'm beating this virus!
I'm sure it's got something to do with running through my home county of Yorkshire - not to mention all of the wonderful support I've had so far.
Jamie Carragher, John Barnes and all of the security staff gave me a really warm welcome when I arrived at Anfield last night. It's that sort of support that is keeping me going on days like this when I've got 42 miles to run.
As I wasn't able to bend my knee properly due to my injury, Jamie had to help me down the famous players' steps from the tunnel down to the pitch.
I got about three hours' sleep last night and once again got up feeling nauseous.
It was raining when I turned up at Barnsley, which wasn't surprising, because it's been raining at the start of every day so far. It's become a bit of a tradition so I hope it continues.
It was an amazing surprise when Danny Wilson presented me with a signed shirt with my name and my 250-mile target on the back; it will be auctioned off in aid of Women's Aid so make sure you get your bid in.
Danny (who used to be the Blades' manager, in case you've forgotten) is such a great person; he turned up really early to show his support even though Barnsley had a game on Tuesday night.
This morning's 17-mile leg between Barnsley and Doncaster through the countryside was hard work as there were plenty of massive hills.
I've not been looking at the route on purpose so I couldn't remember how far it was - and it felt like I was trying to get to Doncaster for ages.
It was around about that time that one of my support crew on a road bike told me that Sheffield United's game against Peterborough had been postponed.
I couldn't believe it! Bramall Lane is my last stop after Rotherham and I'd really been looking forward to the game against Peterborough and going on the pitch, because I know the fans are really going to get behind me.
The first thing I'm going to ask when I get there is 'how come I can run 42 miles in this, but you can't play football...?' Kidding aside, I'm sure Bramall Lane is going to give me a really good reception.
It has got to the point where I'm expecting at least one thing - if not three or four - to go wrong. Today one of the support cars broke down and someone accidentally put WD40 on the disk brakes of one of our bikes (I won't mention who). It's definitely keeping me entertained!
When I complete this challenge - and I'm 100 per cent confident that I will - I'm certainly going to have a few stories to tell!
Until then, keep showing your support by sending me messages and making those all-important donations!
Charlie x
P.S. Don't forget that Sky Bet are putting a signed shirt up for auction for each of the 25 Football League clubs I visit on my run. To find out how to bid for one, just click here!
Support Charlie
Take a look at the route I am running on www.facebook.com/charliesbigchallenge.
You can find out more about Charlie's Big Challenge here www.justgiving.com/charliesbigchallenge.
You can follow Charlie's progress on Twitter at @CharlieCW.