2014 Winter Olympics: Sky Sports travels to Sochi to look at preparations with one year to go
With one year to go until the Sochi Winter Olympics, Sky Sports News' Geraint Hughes visits Russia.
Last Updated: 28/02/13 9:49am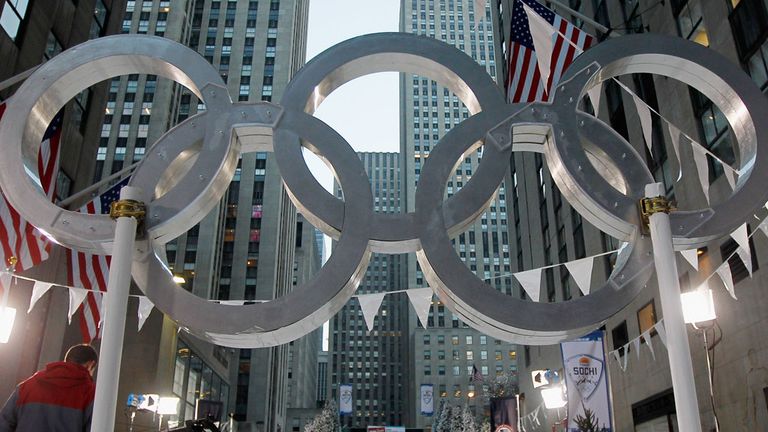 With London 2012 still fresh in the mind, Team GB will be hoping to ride that wave of enthusiasm into the Winter Games, and hopefully improve hugely on their recent struggles.
Apart from looking at Team GB's chances, Geraint also looked at the logistics of staging the Games, will Sochi be ready, will the venues be up to scratch and will fans be safe in Russia?
Here are Geraint's reports from throughout the week on Sky Sports News.
Sochi 2014 - Countdown begins
Geraint Hughes reports from Sochi, Russia, as the country prepares for the 2014 Winter Olympics. Much has been made about Russia's ability to stage the event, and with the eyes of the world looking on in just a year just how ready is the venue to stage one of the world's biggest sporting events? Are the venues, hotels and infrastructure all on schedule to be ready for use by fans, athletes and officials? Geraint is tracking down those in charge to find out.
Click Here for the full report.
Safe in Sochi
The Sochi Winter Olympics in Russia is a year away. As with many high-profile sporting events, security is a major concern for organisers. Many people will be wary of heading out to Russia and with the Games being such a huge event safety be a big priority for those wanting to buy tickets and make the trip to Sochi to cheer on their skiing and skating heroes. Geraint investigates just how safe it will be for fans to enjoy the Olympics in Sochi.
Click Here for the full report.
Going for gold
Team GB has won just a solitary medal at each of the past two Winter Olympics, each in the women's skeleton event. Geraint talks to both of those medallists, Amy Williams and Shelly Rudman, as well as other medal hopefuls for Sochi as Team GB look for a big boost in that tally and hopefully take some momentum from London 2012's success into the Winter Olympics.
Click Here for the full report.
High expectations
Many people in the host nation are seeing Sochi 2014 as a chance to put Russia back on the map in sporting terms and the president of the Russian Olympic Committee, Alexander Zhukov, is aiming for the team to top the medal table. Geraint meets some of the hopefuls to see how, having been inspired by London 2012, they are hoping for success on home soil.
Click Here for the full report.