The heat is on
Aaron Cook told Sky Sports News he is training hard to win taekwondo gold at the Olympics.
Last Updated: 05/12/11 11:44am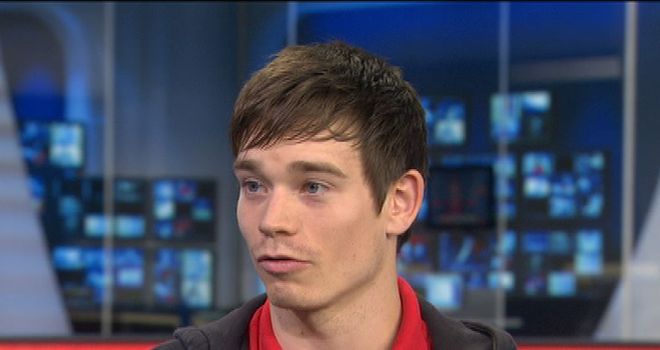 Taekwondo's world number two Aaron Cook told Sky Sports News HD he intends to make the headlines at next year's Olympic Games.
Cook is backed by the Sky Sports Scholarship scheme which is designed to support some of Britain's most exciting athletes fulfil their potential on the international stage.
The 20-year-old has just returned from an intensive training session in Mexico ahead of this week's Olympic test event at London's ExCel arena, where he hopes to top the podium in 2012 if he can win a place in the Great Britain team.
"All of the training is for the Olympic Games and I'm hoping to get selected next year to represent my country," said Cook. "If I make the Olympic team then it's about bringing back that gold medal for myself, my family and my country."
Idols
Cook, the first ever GB Taekwondo Junior World Champion, qualified for the 2008 Beijing Olympics when he was just 17 and won gold in the 80kg category at the 2010 European Championships, but he says his proudest moment in the sport came at the age of 18 when he beat five-time World Senior and twice Olympic Champion, Steven Lopez.
"Just to fight one of your idols [is incredible]; I didn't just manage to beat Steven, I managed to knock him out which was unbelievable. That moment will stay with me probably until I die and hopefully I can top that next year in the Olympics.
"I was watching Steven Lopez ever since I started taekwondo; he's the greatest ever taekwondo person that has ever lived. To knock a great out like that is like knocking out Mohammad Ali."
Extra
Cook, a Manchester United fan, has recently teamed up with United's former fitness coach Mike Clegg - a move he says is paying huge dividends.
"It's been fantastic. Ever since I left the national academy set up, Mike's been training me for no fee.
"He's put me in some great shapes. I've won four tournaments since I've left the national team so it's obviously working and I feel in a lot better shape than I have ever been in my life."
Cook splits his training time between Ashton-under-Lyne and a gym that is rather closer to his home in Gorton.
"We can't play football in the garden, unfortunately, any more," he explained. "My Dad built a gym in our back garden in Manchester when we moved up just to do a bit of extra training for just before Beijing.
"But now luckily enough we've got nowhere to train so it's a great help to be able to train two or three times a day when we are in this country. It's not much of a commute!"
Lucky
Cook first got into martial arts as a kid.
"I was five years old and I was inspired by the Power Rangers - trying to do all their moves with my brother in the front room," he explained.
"My parents thought it would be a good idea for self-defence reasons and things like that; I wanted to be the Red Ranger growing up and I've been lucky enough to be dressed up as the Red Power Ranger this year and to do a couple of things for them this year is a childhood dream."
He is now dreaming of gold in 2012.