UFC: Jimi Manuwa confident of further success against Ryan Jimmo in Manchester
Jimi Manuwa in particularly confident mood ahead of his light heavyweight bout against Ryan Jimmo.
By James Dielhenn
Last Updated: 23/10/13 12:02pm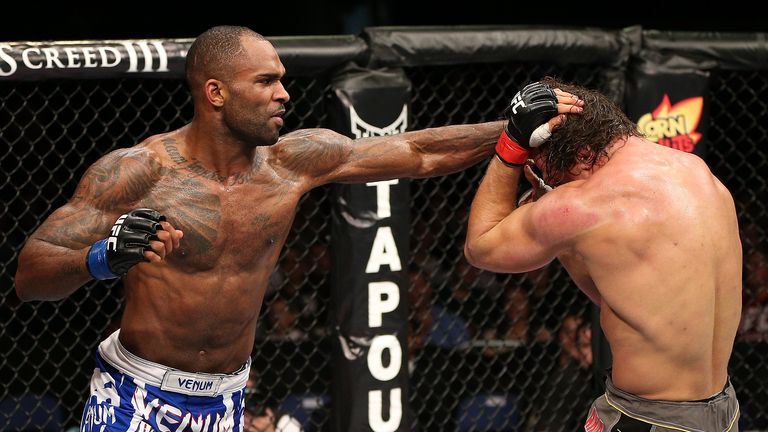 Silva, widely recognised as the greatest martial artist to grace the Octagon, recently passed by Manuwa's Croydon gym and his advice will be put into practice on October 26.
Manuwa, the lethal knock-out artist who has wrecked his way through two UFC fights so far, isn't easily impressed by his peers but admitted that meeting Silva was a different story.
"A friend of mine contacted me and asked if I'd like to meet Anderson Silva and of course I said yes," he told Sky Sports.
"He's one of my favourite fighters of all time so I was honoured."
Silva gave a seminar at Manuwa's Lion's Pride gym and the opportunity to be in the presence of greatness was a unique build-up to the Manchester fight.
He continued: "I spent a few days with him. We did some training, had a couple of meals and went to a little do together!
Focus
"He's given me more things for my arsenal and made me look at things differently, giving me more focus."
The significance of Silva's influence over Manuwa is contextualised by the latter's attitude towards other respected veterans.
"Be it Shogun, Dan Henderson, Rashad Evans, Ryan Bader, they're all potential opponents. I concentrate on my training to beat these people."
Winning is something that the 33-year-old has become accustomed to. Thirteen career opponents have been vanquished, 12 by knock-out. His two UFC victims speak volumes - Kyle Kingsbury retired with facial injuries and Cyrille Diabate has not been heard of since quitting on his stool after one round.
Recalling a chance meeting at a train station with the annihilated Kingsbury, Manuwa remembered: "I felt a bit awkward because he had a big black eye so I looked the other way and I'm not sure if he saw me!
"He walked past me, what do you say? It was a bit awkward."
Ryan Jimmo is the next opponent but Manuwa foresees the same outcome.
"Anybody, anybody I touch," he vowed. "Everybody is human and I believe that anybody I hit is going down. Everyone's human, if I hit them they are going to feel it."
Intent
Jimmo's last win suggests he may try to avoid those strikes to the detriment of the crowd's excitement by out-wrestling Manuwa.
"I'm not looking at Ryan Jimmo's last fight, I look at him as a person.
"He's got a seven-second knock-out so I don't think he's coming just to hold on, he might try and knock me out in seven seconds.
"He's only had 2 losses in 18 fights," - but Manuwa has none.
Another heavy-handed victory should see a significant increase in competition for Manuwa but, with the exception of Anderson Silva, there are few fighters he looks up to.
So far he's spent his career looking down at fighters rendered unconscious on the ground.