UFC: Ross Pearson hoping training camp sacrifices will pay off against Melvin Guillard
Ross Pearson talks to James Dielhenn about his sacrifices ahead of the UFC's Manchester showcase.
By James Dielhenn (@jamesdielhenn)
Last Updated: 24/10/13 9:57am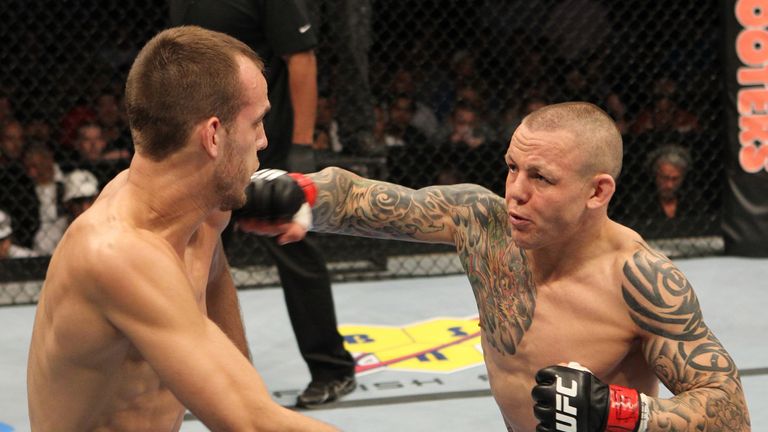 It is inside the confines of a cage this weekend, competing on home soil at UFC Fight Night in Manchester, is where Pearson will find peace. But it is only possible after months of suffocating training in a faraway land.
"I didn't come out to California because of how nice the weather is, I came because of the level of coaching," the lightweight told Sky Sports ahead of his co main-event fight with Melvin Guillard on Saturday.
"I love the fighting, the atmosphere and the sport but I hate the dedication, I hate the sacrifice, I hate how much time I have to spend away from my loved ones.
"Training camp is a love-hate relationship. It takes 100 per cent sacrifice to stay relevant at the top level."
Pearson's relevance cannot be disputed, largely because he takes motivation from the hardship.
The boy from Sunderland has fought in Australia, Brazil and Sweden as well as across America but there is nowhere he would rather be than amongst familiar surroundings. It has been four years since he last fought in England.
"I love fighting all over the world," he said. "I've seen some amazing places. I met my fiance through fighting in Australia. But I've missed being in front of a home crowd and having that support.
"You can feel the crowd getting behind every punch that you throw."
Struggle
He intends to make Guillard pay for the weeks of sweltering struggle in San Diego.
"I didn't come all this way to train for 12 weeks to just lie down and get beaten," he continued. "I've got to make him realise he's in my country, on my soil, and this is my fight.
"I'll take a shot to give a shot, we're looking to spill blood together."
Even before any bumps and bruises are healed, animosity will be replaced by sportsmanship.
He added: "I respect Melvin and after the fight, whatever happens, we'll shake hands and have a beer as friends."
Pearson's disdain for spending so much time on the road is offset by his ultimate ambition of becoming the first English MMA world champion.
He insists: "I'm doing everything in my power to get there. I'm not travelling all over the world, paying all this money and dedicating my entire life to just not get there."
Pearson is a fighter from his core all the way to the tattooed arms that stopped his last two opponents - "getting there" is a lifelong obsession that means overcoming strains on his personal life in preparation for when the lights shine and the crowd cheers.
Finally, Pearson will feel at home both in his own country and in the cage where everything he has persevered through will pay off.
The UFC is returning to the UK on Saturday 26th October as Lyoto Machida takes on Mark Munoz at the Phones4U Arena in Manchester. Tickets are available now from http://www.ticketmaster.co.uk/