Sanchez out to shake Jake
Diego Sanchez is targeting a hat-trick of UFC victories when he takes on Jake Ellenberger at UFC on Fuel.
Last Updated: 14/02/12 5:33pm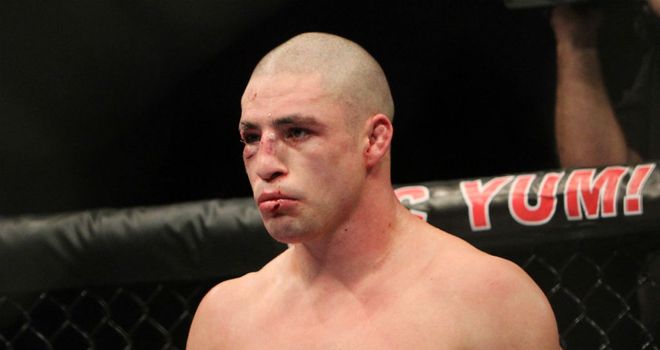 Diego Sanchez is targeting a hat-trick of UFC victories when he takes on Jake Ellenberger at UFC on Fuel, knowing a win could put him in the Welterweight title picture.
The 30-year-old has come off the back of two spectacular 'Fight of the Night' successes against Paulo Thiago and Martin Kampmann and is confident of beating the highly-rated Ellenberger and cementing his position as a threat to interim Welterweight champion Carlos Condit.
Many consider Ellenberger as a future champion and although he is seen as the underdog in this encounter, Sanchez believes he can give a good account of himself.
He told UFC.com: "I know that on February 15th when they lock the door and it's just me and Jake in there, nothing that I will have said will matter, and it's just going to be me and him in there.
"I know that once that 15 minutes is over, I'm going to walk out and be able to say I gave it everything that I had."
Brutal
His last bout was a brutal 15-minute clash with Kampmann that left both men bloodied and bruised, yet still he managed to seal an unlikely points decision.
Now Sanchez believes that he is stronger after the experience and reckons it has changed his mentality ahead of fights.
He added: "With that victory I had one of the most crucial learning experiences of my career, and that was that I could never ever go into a fight not sharp on my striking. For that fight I didn't hit mitts with [coach Mike] Winkeljohn once, and I didn't even go as far as punching a bag once."
He continued: "All I did was wrestle, wrestle, wrestle, and I had it in my mind that no matter what this guy tries to do, I'm gonna take him down and I'm going to win the fight. But he knew that, and I gave him the opportunity to hit me with knees while defending the shot."
"I need to be sharp with my striking [against Ellenberger] and go in there as a striker first and if a takedown presents itself it presents itself.
"For the rest of my career, I will always go into a fight as striker first because the fight starts on the feet."