Big in Japan
Quinton 'Rampage' Jackson has promised to entertain the fans in his clash with Ryan Bader at UFC 144.
Last Updated: 24/02/12 9:18pm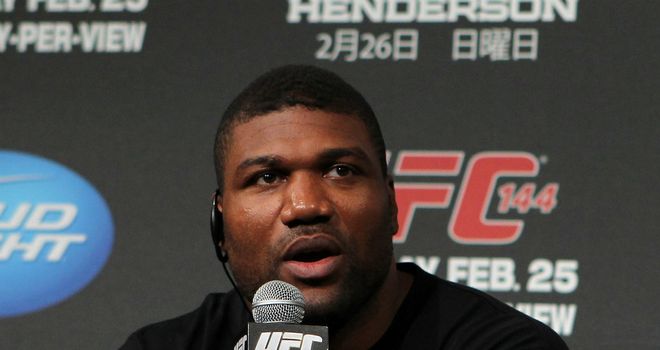 Quinton 'Rampage' Jackson has promised to entertain the fans in his clash with Ryan Bader at UFC 144 in Japan this weekend.
The former UFC Light Heavyweight champion made his name in Japanese MMA organisation Pride before arriving in the UFC and believes that he owes his loyal support an entertaining performance, and is not too concerned about the outcome.
'Rampage' was outclassed in his last outing against current champion Jon Jones, but believes too many fighters are concerned about their record and was particularly critical about Greg Jackson's highly-successful training camp, claiming they have taken the fun out of MMA.
He exclusively told skysports.com: "My main objective is to put a smile on the fans' faces. If I go and I give my fans a good fight it doesn't matter about the outcome of the fight, they want an exciting fight to remember.
"Lots of fighters these days fight not to lose, Greg Jackson's camp has awesome fighters and they do a good job and win a lot of fights - and I hope Greg doesn't take this the wrong way, but I wouldn't really wanna pay to watch his fighters."
"We know these guys are gonna come with a crazy game plan and try and just get the victory, and it won't be exciting but they will be trying to get the job done."
He added: "Greg Jackson is an awesome coach and what he is doing is working - I got my butt kicked by his guys twice - but I just feel that one of those fights was really boring."
Showcase
Rampage is the bookies favourite against Bader, who has suffered two defeats in his last three fights, and the veteran hopes to showcase his striking talents against the Xtreme Couture fighter.
Sky Bet make the former Pride star 2/5 to beat Bader and 21/10 to win by TKO or stoppage, which is the outcome Rampage has his heart set on.
He continued: "My coaches have told me what I need to do to be victorious and stuff like that, I train with the best coaches in the world so Ryan has no idea what is in store for him.
"I would like to see if he wants to stand and trade. I know he is a big puncher and I hope he is up for that. I like to be in a good dogfight. MMA has died in Japan and I want to be the person to revive it.
"I take it on as a personal goal - I just want to be exciting and give the fans something to look forward to so MMA can come back here again."
'Rampage' spent five years competing in Japan and still appreciates some of the cultural differences, especially the way the crowd reacts to the contests.
He added: "It's a totally different atmosphere and they are so quiet during fights and I think the reason they are quiet is so the fighter can hear their corner man.
"Whenever I fight in England or America I couldn't hear my corner man at all and it isn't a bad thing, as it shows they are getting into the fight, but I got used to it being quieter in Japan. There are 70,000 fans but you can hear your corner man fart.
"The UFC can learn from Pride and they must wonder why Japanese crowds like watching a big fat dude fight a little Japanese guy.
"They see it as entertainment and they enjoy those entertaining fights. I think if the UFC realises that the fans just want to see exciting fights then they would alter their match-ups. And put together two fighters who know are going to go at it and give it their all."
Ambitious
Despite not chasing an immediate rematch with Jones, Rampage is ambitious about his future and has no plans to move up to Heavyweight. He has been criticised in the past for his work ethic, but the 34-year-old insists he is getting better with age.
He added: "Maybe I can work my way back to a title shot. It depends how I can feel on any given day.
"Sometimes I feel like I want to train and sometimes I am a monster in the gym. It has always been up to me and sometimes I am not motivated, but recently I have been and training camps have been easier because of it.
"I was considering going up to Heavyweight recently, but my teammate Cheick Kongo is there and I don't want to step on any toes, or offend anybody. Plus my team thinks that I can do well at Light Heavyweight, so I am going to stay at this weight for a while."
"I've fought at Heavyweight before in Pride, and I don't mind fighting those smaller Heavyweights, but I don't like fighting those real big dudes," he chuckled.
Future
The 34-year-old took a break from MMA to star in the reboot of the A-Team film in 2010 and is open about his future away from the sport in the future.
Rampage knows he cannot fight at this level forever and has already planned his career once he hangs his gloves up.
He said: "I want to produce reality shows! You should see my team, my team are funny as hell I want to produce a show for those guys.
"I wanna make music, I am making video game apps, I want to sell underwear, sell socks. I wanna make money while I am sleeping. That's what I wanna do."
He concluded: "I wanna be like Donald Trump without the toupee!"