Sakara ready for Stann clash
Alessio Sakara is set to make his long-awaited return to the UFC when he takes on Brian Stann at UFC Sweden.
Last Updated: 12/03/12 3:16pm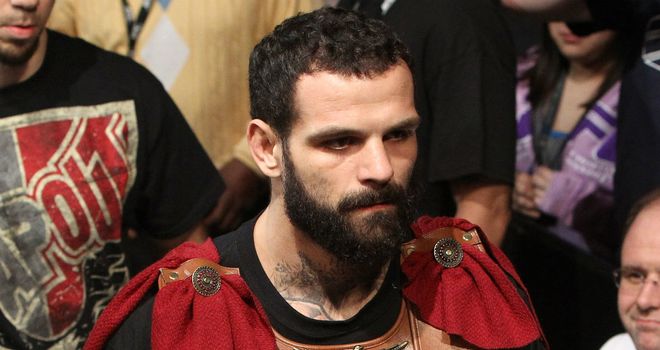 Alessio Sakara is set to make his long-awaited return to the UFC when he takes on Brian Stann at UFC Sweden and is aiming to continue his push for a middleweight title shot following a frustrating year on the sidelines.
Sakara was on a three-fight winning run before a narrow decision defeat to Chris Weidmann in March 2011 in which the Italian broke his foot, and after he recovered from the fracture he suffered a torn cruciate ligament.
But now he is ready to return to the Octagon and has played down the obstacles he has overcome in the past 12 months.
He told Sky Sports: "It has been very frustrating, but from the third day after the hospital, I was already in my gym, training and starting my rehab.
"I have all the guys from the Legionarius Team supporting me, with Massimo Farina helping me training from the beginning, and Marco Paiella as coach.
"I'm also training in the US, where the America Top Team will take care of the last stage of my training, before the fight.
"I have fully recovered after the injury; between me and the title shot there are just other fighters to be beaten."
Intrigue
An intriguing character, Sakara possesses the self-confidence of a 12-fight UFC veteran who is determined to establish himself at the top of the middleweight division.
He takes inspiration from ancient literature and claims not to be fazed by facing Stann, who was tipped for a title shot himself before losing to a dominant Chael Sonnen at UFC 136.
He added: "I'm faster and more skilled in the standing combat [than Stann]; and I am also more skilled on the ground."
"I've watched his fights but I don't train on the basis of what I see. I have to be ready for everything."
Sakara will be fighting in mainland Europe for the first time since 2005 and he has been impressed by how much the sport has grown in his home country in that time.
He concluded: "I think it will be tough to see MMA at the same level of popularity that soccer has in Italy, for historical and cultural reasons. But it can become a mainstream sport without doubt, just as it happened to rugby.
"It is exploding, as it has done in other areas like US and Asia. The reason is that it's real, you won't ever be bored by a fight."