Bisping confident of Stann win
Michael Bisping believes he deserves a shot at UFC Middleweight champion Anderson Silva if he gets past Brian Stann.
By Jonathan Witty - Twitter: @JonathanWitty
Last Updated: 24/07/12 4:32pm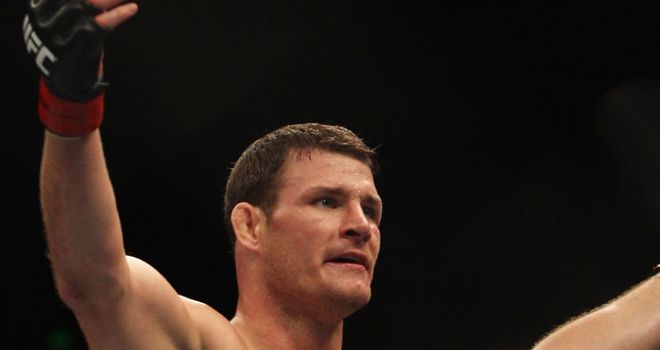 Michael Bisping believes he deserves a shot at UFC Middleweight champion Anderson Silva if he gets past Brian Stann at UFC 152.
Bisping lost a tight decision to Chael Sonnen at UFC on Fox 2 in January, which earned his opponent a shot against Silva earlier this month, but the Manchester man reckons he can re-establish himself by beating Stann in Toronto.
However, Silva successfully defended his coveted crown, which leaves a number of fighters jostling for position, including Bisping and Stann, as well as Tim Boetsch and Chris Weidman - who have both enjoyed impressive wins in recent weeks.
But Bisping reckons it is his time and he has the experience necessary to get past Stann and become only the second Englishman to earn a title shot in the UFC.
He said: "I've been around the UFC since 2005, I've been consistently fighting the best guys in the world, and I've done very, very well.
"I was robbed in a decision when I fought Chael (Sonnen), if I hadn't been robbed there, when I beat Brian, I'll be on a six fight win streak, I think I deserve a shot."
Headliners
UFC 152 is headlined by a title fight between Joseph Benavidez and Demetrious Johnson to decide the inaugural UFC Flyweight champion, but Bisping reckons his clash with Stann is the real attraction.
"In my opinion, and I think in most people's opinion, this is the main event. This is the real main event. Two big, hard-hitting guys," beamed the 33-year-old.
"No one cares about little flyweights, this is the real main event, this is the real big fight, tune in cause someone's getting knocked out, it ain't going to be me though. This is the real main event of UFC 152."
Bisping has a reputation for trash-talking his opponents, but he revealed his respect for hard-hitting Stann, who he believes is a dangerous foe.
He added: "I've been around here a long, long time, and I'm good at what I do. Brian, he's a fantastic fighter, but I think I'm a better fighter, and that's what makes it a fight.
"We're fighters, you can't go in there thinking you're not going to win. You've got to be confident, and I'm very confident.
"I'm going to go out there and do everything I can to punch you in the face as many times as possible and he's going to do the same."
The UFC is returning to the UK on 29th September at The Capital FM Arena in Nottingham. Tickets are available from www.ticketmaster.com and www.ufc.com.