Bisping - Fans in for a treat
Michael Bisping believes that fans attending UFC on Fuel TV 5 in Nottingham will be 'treated to some amazing fights'.
By Jack Woodfield
Last Updated: 17/08/12 5:05pm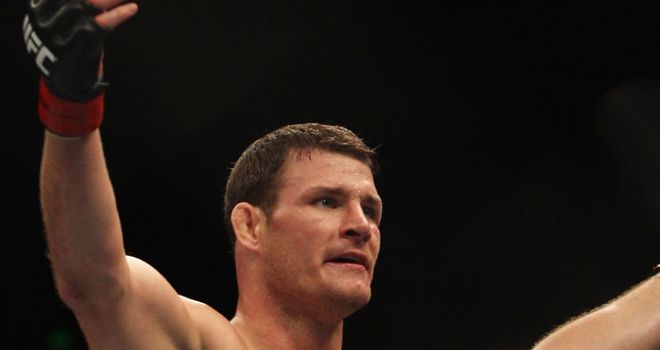 Michael Bisping believes that fans attending UFC on Fuel TV 5 in Nottingham will be "treated to some amazing fights" inside the Capital Arena.
The event will mark the UFC's return to the UK for the first time in almost a year on September 29, as well its first ever visit into Nottingham.
The event will be headlined by the heavyweight clash between Stefan Struve and Stipe Miocic, while Nottingham welterweight Dan Hardy will feature in the co-main event against Amir Sadollah.
English middleweight Bisping believes that the English fighters competing on the night will be out to impress.
He said: "I think the UK fans are going to be treated to some amazing fights all night long.
"You've got a number of great up and coming fighters, great guys who have been recruited to the UFC because of their talent. They're young and hungry and looking to impress."
For Hardy, history shows that "The Outlaw", who is coming off a KO victory over Duane Ludwig at UFC 146, hugely enjoys fighting in his hometown.
The former UFC Welterweight title contender is undefeated in four fights in Nottingham, but Bisping is aware of the pressure that Hardy will feel on the night.
"Dan knows about all the extra pressure that comes with being an English fighter fighting in England," Bisping said.
"On the one hand, you've got the most amazing support but on the other hand you don't want to let anybody down and let them see you get your ass kicked.
"Hardy is in his hometown and he's against a very dangerous fighter in Amir. I'll be right there supporting Dan."
Backing
Elsewhere on the card, John Hathaway faces John Maguire in a welterweight clash which Bisping, who faces Brian Stann at UFC 152, is backing to be one of the fights of the night.
He added "There are some other great fights on the card, including an all-English battle between Hathaway and Maguire.
"It seems, whenever there are two Brits fighting in the UFC, we always seem to put on a good fight.
"Ross Pointon and I in TUF 3 was a good fight, Paul Kelly and Paul Taylor had a war and I think this one is going to be right up there with them."
This Sunday the stars of the UFC Nottingham card, Jason "Shotgun" Young, Che "Beautiful" Mills and John "The One" Maguire will be taking part in a signing at Sports Direct (28 Clumber St) in Nottingham. The signing will take place from 10am until noon, before the fighters head over to Trent Bridge to support the Notts Outlaws in their match against Durham Dynamos.