Maguire eyes UFC hat-trick
John Maguire is targeting a hat-trick of UFC wins when he steps into the Octagon again at UFC in Fox 5.
By Jonathan Witty - Twitter: @JonathanWitty
Last Updated: 20/08/12 6:13pm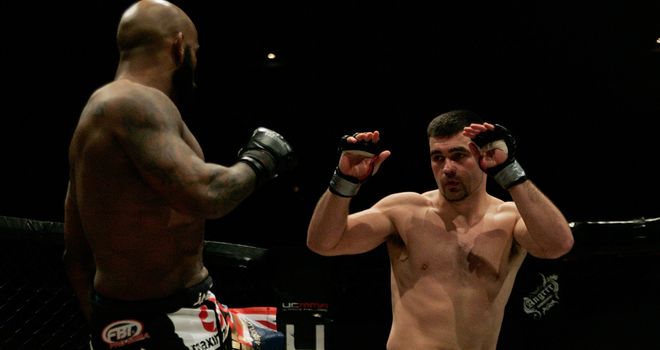 Welterweight contender John Maguire is targeting a hat-trick of UFC wins when he steps into the Octagon again at UFC in Fox 5 after a whirlwind first year in the organisation.
Maguire faces fellow British fighter John Hathaway when the UFC debuts in Nottingham next month and is seeking another victory after seeing off Justin Edwards and DaMarques Johnson in the last 10 months.
The 29-year-old is determined to keep his winning run going and has been training hard for the bout with Hathaway.
He exclusively told skysports.com: "[Training camp] is good. I've been getting my **** kicked every day at the moment and it's tough. I'm back in training after a few weeks off.
"When I am training for a fight I eat well and I'm in good shape for the week after the fight, but in between fights people call me 'fat John' as I like my food!"
Maguire revealed he was surprised to be lined up with another British fighter in Hathaway, but has already done his homework on the 'Hitman'.
"It was a strange one, I wasn't expecting it to be against an English fighter, I thought I would be facing an international guy - Matt Brown was mentioned at one point.
"But then [the UFC] came back to me and offered me John and I took the fight."
He continued: "I've been training with big guys in preparation for John will have a bit of a height advantage over me and a reach advantage too.
"He may have been out for a while and I don't know if he will be rusty, but I think I have the speed advantage and I could be a bit sharper."
Roots
Maguire attributes some of his success to surrounding himself with the right people and believes that staying true to his traveller roots has helped him stay grounded as a person.
A popular trend for MMA fighters at the moment is to train in a number of gyms and gain experience from all over the globe, but the Cambridge fighter is keen to maintain the momentum that has seen him record a seven fight unbeaten run and is reticent to change his preparations.
He added: "As everything is going well at the moment, it's not like I have lost a couple of fights on the bounce, I want to keep it as it is.
"I train with my brother and I have him in my corner for fights. And he will always let me know if I am not doing well either in training or in a fight.
"He might tell me after a round that I need to buck my ideas up. If you are surrounded by 'yes men' then people don't let you know what they think and you need that honesty to progress."
With many stories in the media often painting a grim picture about the lifestyle of travellers in the UK, Maguire is keen to distance himself from these perceptions and says he practices 'Gypsy Jiu-Jitsu', not only a play-on-words of the Brazilian martial art, but a way of taking the sting out of barbs aimed at travellers by empowering a traditional insult.
He added: "It's unfortunate that there are those negative connotations, but I hope I can be some sort of role model for anyone really.
"I still live on the site, and we're a tight community. I've never known anything else.
"Now I am in the UFC more and more people know me and 'Gypsy Jiu-Jitsu' not just in the travelling community, so hopefully people can see that there are positive things about travellers too."
Showman
Known as a showman, Maguire firmly insists entertaining the crowd is paramount to his success and believes it can help to build a positive reputation with fans in the UFC.
When he steps into the Octagon to face Hathaway on September 29, he has set his sights on another victory, but one which will maintain his reputation.
He concluded: "It's hugely important you need to put on a good show in the UFC, that involves fighting well and winning but also putting on an exciting fight and giving the people what they want to see.
"I think people find that I've got quite an entertaining personality when they meet me!"
Tickets are now available for the Nottingham card from the Capital FM Arena or UFC.com.