Struve ready for title run
Stefan Struve reckons victory over Stipe Miocic could pave the way for a run at the UFC Heavyweight title in 2013.
By Jonathan Witty - Twitter: @JonathanWitty
Last Updated: 28/09/12 12:38pm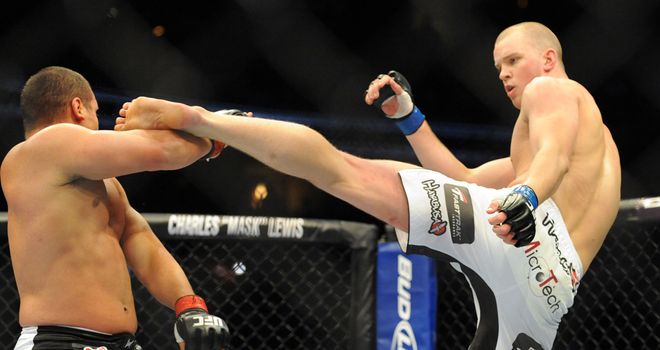 Stefan Struve reckons victory over Stipe Miocic at UFC: Nottingham would cement his place as a top contender and pave the way for a run at the Heavyweight title in 2013.
After defeat to Travis Browne in May 2011, the towering Dutchman has eased to three consecutive victories within the distance and is eyeing another to take him into the upper echelon of the division.
However, Miocic is unbeaten in his career and is seeking his 10th victory in Nottingham, though Struve is confident of ending his winning run.
He exclusively told skysports.com: "You always think of the best way to fight an opponent and the coaches have put together a bunch of different game plans.
"I don't think he will be 9-0 after this fight, he will be 9-1."
The towering 6ft 11" fighter added: "I don't think I will get a shot when I win this fight, but it will bring me close to the sort of guys who are in touching distance of a title fight next year.
"I have to keep on winning every single fight and hopefully that will soon bring me to the title soon.
Entertainment
Despite only being 24, Struve already had a wealth of experience in a number of organisations before joining the UFC and is savvy enough to realise that entertaining the fans is always beneficial in the long run.
He said: "I always want to put on an entertaining fight. I have 33 professional fights so far in my career and not a single one of them has been boring.
"In Europe you see the fans singing and you don't see it an awful lot in the United States, it's exciting.
"I love the mentality in the UK - the fans go nuts if you put down a good fight. I have fought there a bunch of times before I came to the UFC and it will be great to come and put in another good performance."
One man who always aims to entertain UFC fans is Jon Jones and Struve believes he could be the man to stop the reigning Lightweight champion.
"I would love to take him on, and would love to give him a tough test," beamed Struve.
"I don't want to take anything away from him as he is really talented, and he has so many different skills, but I think if he goes up in weight and fights bigger and taller guys with longer reach, then it is going to be tough for him.
"Right now he is enormous for 205lbs and I understand why these guys have a hard time reaching him."
Injuries
Following the recent spate of injuries which have decimated a number of UFC cards this year, Struve was careful to train carefully for the Miocic bout.
By his own admission, Struve believes he trained poorly in his early days as an MMA fighter, but has now refined his preparations.
He continued: "With the first couple of fights I did in the UFC, every single training session was about getting as tired as possible. But after a few wins I started to work with different coaches, one for stand up, one for Jiu- Jitsu and one for wrestling.
"I have been doing all the stuff I should be doing, strength and conditioning, pad work and working with different coaches.
"I've been in Holland training there and in LA too I have done a lot of training for this camp, 14 weeks and then I am not lifting too heavy or doing intense sparring close to the fight."
Struve aims to arrive in Nottingham in top condition to continue his title push, but would he trade it all for another sport?
He admitted: "I wish I was a footballer, but I was no good! With those the salaries those guys are getting paid I would be in Manchester..."
But the question on everyone's lips would be: Manchester United or City?
Struve chuckled: "Whoever pays me the most money!"
See all Sky Bet's markets for UFC: Nottingham here.