Outlaw seeks home comforts
Dan 'The Outlaw' Hardy is targeting back-to-back victories when he returns to Nottingham to face Amir Sadollah
Last Updated: 28/09/12 6:26pm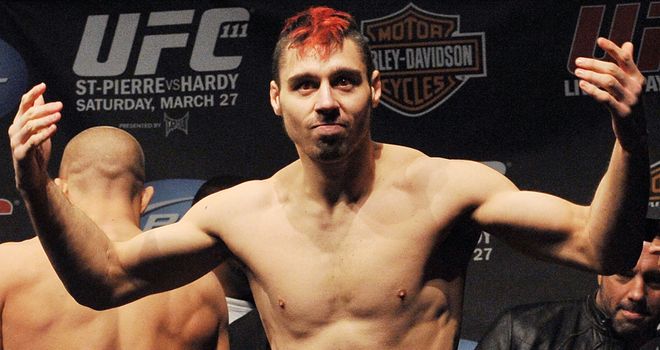 Welterweight contender Dan Hardy is targeting back-to-back victories when he returns to Nottingham to face Amir Sadollah on Saturday.
Four successive defeats left the 30-year-old fearing for his UFC future, but a fantastic first-round stoppage of Duane Ludwig at UFC 146 saw him turn the corner as he stared into the UFC abyss.
Now he takes on Sadollah in the co-main event in his home town and is eyeing the sixth UFC victory of his career to banish the memories of the past few years.
Following defeat to Chris Lytle in May 2011, Hardy decided to take some time away from the limelight, moved to America to broaden his skillset and he reckons it is the best decision of his life.
He told skysports.com: "The process was seamless as I took a bit of time out and it's been great. It's best thing I have done and I wish I had done it sooner in my career to be honest.
"The problem with the UK is all the time you spend travelling between various guys in different cities, when you could be at home resting and rehydrating.
"And in Vegas there are a lot more professional fighters there, so I have so many people around me that I can learn from and I can train with. You just have to get out of your comfort-zone sometimes."
Hardy continued: "A lot of stubbornness and determination gave me the strength to bounce back. I spent a lot of time reminding myself of all the hard work I had put in to get to that point.
"A lot of fans think your career starts when you join the UFC, but I'd had 25 fights before joining the UFC. I had done a lot of training camps and had a lot of ups and downs.
"I felt like I'd earned my spot in the UFC and I didn't want to have it taken away from me like that."
Talents
A rejuvenated Hardy displayed some of his new talents in his win over Ludwig, looking much more rounded as a fighter.
The former Welterweight No.1 contender is 1/2 favourite with Sky Bet to win, and believes he possesses the experience to overcome Sadollah.
Hardy said: "My last opponent Duane Ludwig faced Sadollah, so I spent three months watching that fight over and over again anyway and I was already familiar with him before I realised he was my opponent.
"He's not evolved a great deal in fights, the same guy shows up each time. He's always in good shape, he always pushes the pace and he always looks to move forward.
"His strengths are that he wears guys down with his tenacity and his persistence. But I feel I have the advantage of experience as I have 35 fights to his nine.
"I have been in there with some of the best guys around like Georges St-Pierre and interim champion Carlos Condit, I have experienced fighting top level guys, which he hasn't."
He continued: "I have been doing this a lot longer and there are a lot of tools I have that he doesn't and there are a lot of tools I have picked up in the last year from switching camps that he doesn't know about yet because I didn't have to use them in my last fight."
Return
Hardy last fought in the UK two years ago in London, but has been desperate to return to his own city and believes good performances from the home fighters on this card could inspire more Brits to take up the sport.
"It is four years since I fought here last and that was a smaller show, but having a fight in my home town huge for me," he said.
"I think my fighting style is entertaining. I'm a fan first and foremost and I get a lot of enjoyment by keeping the fans entertained.
"There are lot of talented guys on this card who have the possibility to go a long way in the sport and a lot of guys that have been around.
"There are a lot of guys that nobody has ever seen before in gyms around the country and are waiting for that opportunity and things are going to continue to get better.
Click to see all of Sky Bet's markets for UFC: Nottingham.