Struve strives for greatness
Stefan Struve recorded his fourth consecutive UFC win with a spectacular TKO victory over previously unbeaten Stipe Miocic.
By Jonathan Witty - Twitter: @JonathanWitty
Last Updated: 30/09/12 7:20am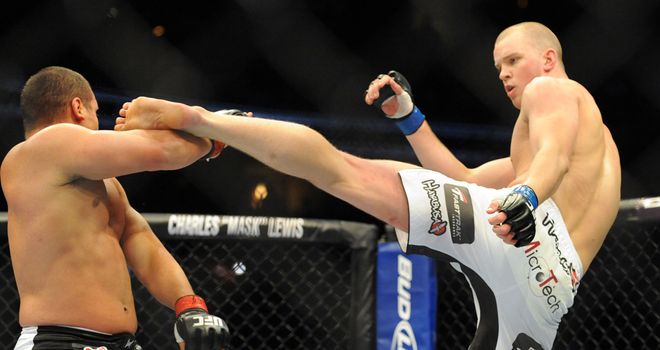 Stefan Struve recorded his fourth consecutive UFC win with a spectacular TKO victory over previously unbeaten Stipe Miocic in the main event of UFC Nottingham.
The Dutch Heavyweight finished the bout in the second round with a series of powerful strikes that had Miocic rocked, which led referee Herb Dean to call a stop to the fight.
In the opening round Struve struggled to establish his range, with his opponent catching him on a few occasions.
However, Struve bounced back with an impressive striking display in the second round to seal his 25th career win and no doubt an opportunity to face a top 10 Heavyweight contender.
In the co-main event, Dan Hardy took a unanimous decision victory over Amir Sadollah in front of his home crowd.
After a tentative opening round, Hardy controlled the bout with numerous takedowns which Sadollah had no answer to and then made his positional advantage count, with a number of brutal elbows which split his opponent's forehead open.
In the final round, the Nottingham fighter continued to limit Sadollah's striking opportunities and displayed a ring-savvy approach to ensure he sealed back-to-back wins in the Middleweight divison.
Knock-out
Brad 'One Punch' Pickett lived up to his name by knocking out Yves Jabouin to establish himself as a top contender in the Bantamweight division.
The pair traded blows and exchanged leg kicks in a bright opening to the bout, before the East London man floored Jabouin with an uppercut and pounced on his fallen opponent to seal the victory.
Matt Wiman ended Paul Sass' unbeaten run with a submission victory in the opening round of their Lightweight clash.
After the British fighter took his more experienced opponent down, the pair waged war on the ground, which saw both men come close to sealing victory.
Wiman was returning to action after a year out of the Octagon, but did not appear to suffer from ring rust, thwarting Sass' submission attempts before securing an armbar at 3.48 to end the Liverpool fighter's 100 per cent record.
John Hathaway edged a hard-fought, yet unspectacular contest with fellow Brit John Maguire as his wrestling talents negated his opponents' submission skills. The fans booed both fighters at several times during the contest, but Hathaway was on top for long spells and never really looked in danger, using his reach advantage to ensure a unanimous points victory.
Decision
Elsewhere on the main card, Che Mills secured his second win of his UFC career after Duane Ludwig suffered a knee injury in the opening round of their Welterweight clash and the referee decided to stop the bout.
On the undercard, Jimi Manuwa put on a dominant display in his UFC debut, dismantling Kyle Kingsbury in two rounds before a doctor stoppage ended the bout.
Kingsbury emerged for the bout to 1990s hit 'Don't Hurt Me' by Haddaway, but was soon in a world of pain as Manuwa showcased his striking capabilities with a series of knees that left the Californian reeling.
As Kingsbury somehow emerged for the final round, his entire left eye closed and heavily bruised, the referee consulted the doctor who ended the bout, to give Manuwa his first UFC win.
The Ultimate Fighter (TUF) alumni Akira Corassani and Andy Ogle put on a highly-entertaining tussle, which saw both men trade powerful blows in the early stages.
Corassani edged the second round, but controversially seemed to accidently strike Ogle after the round ended, which actually seemed to galvanise the Newcastle fighter. Ogle bounced back and dominated the final round, but was unable to
Debutant
Debutant Tom 'Kong' Watson emerged wearing his famous gorilla mask, but discovered that the UFC is an entirely different animal in a barn-storming split decision defeat to Brad Tavares.
Watson started brightly, pushing Tavares into the back foot with a number of powerful head shots, but Tavares wrestling talents and crisper striking secured a first round victory, which meant the Southampton fighter had to chase the victory.
Tavares then dominated the second and third rounds, with Watson threatening a comeback late on, but the former TUF contender held on to take the win.
Gunnar Nelson sealed his 10th career victory with an impressive first round finish submission against DaMarques Johnson. The Icelandic fighter dominated the first round, putting Johnson - who weighed in 6lbs overweight for the bout - in a number of difficult positions on the ground, before finally sealing the victory with a rear naked choke at 3.43 in the second round.
Finally, Robbie Peralta made short work of Jason Young, flooring him with a right hook and finishing the English star on the ground with a flurry of punches within 23 seconds of the first round.