Hardy content after Notts landing
Dan Hardy insists he is relaxed about his future in the Welterweight division after a convincing win over Amir Sadollah.
By Jonathan Witty - Twitter: @JonathanWitty
Last Updated: 03/10/12 10:14pm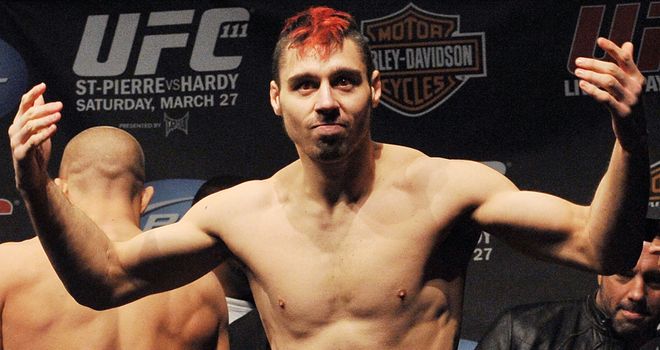 Dan Hardy insists he is relaxed about his future in the Welterweight division after he sealed his back-to-back victories with a convincing performance against Amir Sadollah.
The 'Outlaw' sealed a dominant unanimous points decision at UFC: Nottingham and believes that worrying too much about his potential opposition in the past has caused him to lose enthusiasm for MMA - and the 30-year-old believes he will not make the same mistakes again.
He told skysports.com: "I'm really not looking at anyone [to fight] now. I used to watch each fight with the mind set that I am going to fight one of these guys and I would be watching it from a career point of view.
"That is what really distanced me from the sport as a fan and it really is being a fan of the sport is really what keeps my passion in training.
"I'm putting it out of my mind at the moment, and I'll continue forward at my own pace, working at my own pace and whoever the next roadblock is, I'll just kick them down when they come."
He added: "I don't mind what comes next, I'm in a good place and I'm going to continue to work on my own skills."
Talents
Hardy has been accused of being one dimensional in the past, but against Sadollah he showcased an array of new talents, including improved wrestling and Octagon control, which the New York fighter could not contend with.
Hardy continued: "I had to make a smart decision and not get carried away with the crowd, and I knew I had to put it on him and put a show on.
"I have a lot of skills that people haven't seen yet and I don't really think I showed them, just a couple of takedowns and some elbows.
"The last fight I was hoping to come back with a bang and I really wanted to show people that I had a diverse skill set and it didn't work out that way.
"With this one I was able to show a little more. I should throw a few more kicks as I am a blackbelt in Tae Kwon Do and a lot of my early fights were head kick knock-outs and that needs to come back."
See all of Sky Bet's markets for UFC on FX: Browne vs. Silva