Jones set for Sonnen duel
Jon Jones will defend his UFC light heavyweight championship against Chael Sonnen next year.
By Jack Woodfield - Twiiter: @JWoodfield365
Last Updated: 19/10/12 7:37am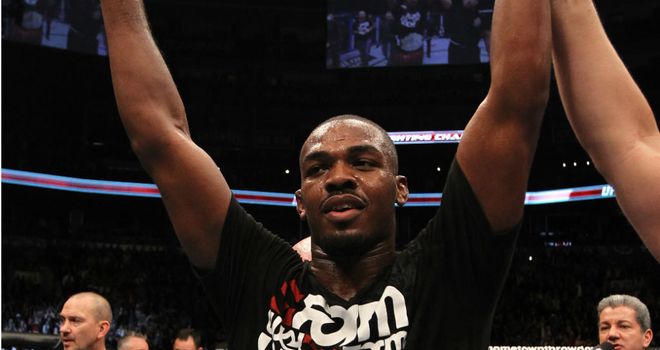 Jon Jones will defend his UFC light heavyweight championship against Chael Sonnen next year after both men were selected as coaches for season 17 of The Ultimate Fighter.
The announcement was made on Tuesday by UFC President Dana White, who is confident that the recent history between the two fighters will make for explosive television.
The bad blood between Jones and "The American Gangster" stems from the debacle that saw UFC 151 cancelled earlier this year.
Jones was set to defend his title against Dan Henderson, but the challenger was forced to withdraw through injury. As "Bones" was left without a challenger, Sonnnen stepped up to take the fight, but was rejected by the champion, resulting in White cancelling the entire pay-per-view.
Sonnen, clearly delighted at Tuesday's announcement, held no punches in Wednesday's conference call, declaring his desire to fight Jones as well as claiming he will be the better coach.
"This show is the single biggest, toughest elimination tournament in all of sport," said Sonnen.
"I keep seeing people refer to TUF as 'a reality show' but this is tougher than the Olympic Games, this is tougher than an NFL season, it is a 16-man tournament of fighting taped over six weeks.
"I'm going to take half of these guys and teach them to be fighters, Jon is going to take the other half and teach them to be selfish.
"He hasn't beaten anybody until he beats me. He's beaten a broken down guy with no knees in Mauricio "Shogun" Rua, a Hollywood extra in Quinton "Rampage" Jackson, and a has-been in Vitor Belfort. Who was next? Scott Ferrozzo?
"I would rather fight in the main event, I would rather fight for the title but, really, I just want to fight that brat Jon Jones."
Closure
Jones, who is out of action until the ew year with an arm injury, is hoping that victory over Sonnen will be the conclusion to a tough chapter in his career.
"I'm really confident going into this fight," Jones said. "My skill set and my youth will be too much for him. I'm a champion; Chael doesn't know how to win championships.
"My position on fighting Chael changed because I want to get over this chapter of my career. The UFC 151 cancellation was a tough moment and beating him will help me get closure.
"This has nothing to do with the belt in my mind. He's not even getting close to the belt. This is about me taking care of Chael.
"I respect some of the things he does for the sport, but he's not a championship level athlete. When it comes to his wrestling, if he gets me down I don't see any way for him to beat me. But I will train like a madman because losing to Chael Sonnen is not an option."
UFC President White added: "Jones is out until April. He's going to be sitting around for months anyway unable to fight so it made sense for him to do The Ultimate Fighter. Everyone has been talking about this fight with Chael so it made sense for them to do TUF and then fight.
"All the contenders who are p****d off they didn't get the title shot are the same guys who I called, offered them the fight with Jon Jones in September, and they turned it down. Chael Sonnen is the only guy who stepped up and wanted to fight.
"This is going to be a great season of The Ultimate Fighter."
Season 17 of The Ultimate Fighter is set to air in January 2013 in America, with details for the UK to be confirmed.