UFC: Chris Weidman stuns Anderson Silva to claim middleweight championship
Chris Weidman knocked Anderson Silva out in Las Vegas to dethrone the greatest martial artist in history.
By @Jamesdielhenn
Last Updated: 08/07/13 11:07am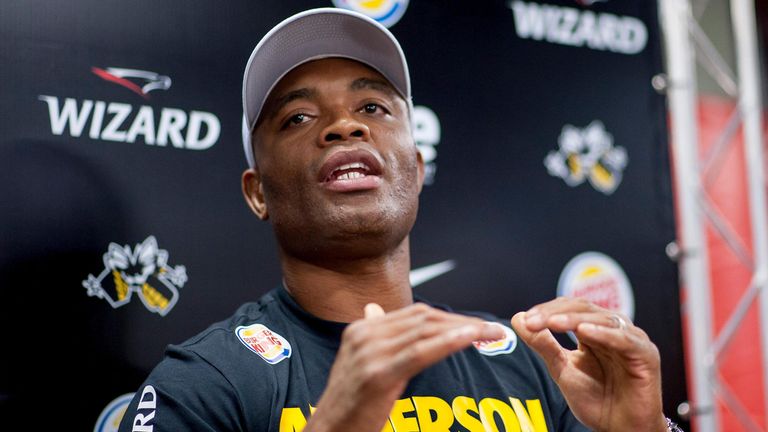 The middleweight championship changed hands at UFC 162 for the first time in seven years as Silva's trademark relaxed style caught up with him and he succumbed to a left hook as he showboated.
Weidman's victory was all the more shocking due to the manner in which it arrived - he was expected to wrestle Silva to the ground and attempt submissions but realistically nobody predicted a knock-out from a standing position in the second round.
After the fight Silva declared his "legacy with the belt is finished" and showed no interest in a rematch although UFC president Dana White insisted he would fight Weidman a second time, possibly next Super Bowl weekend.
Weidman, 29, remains undefeated with a 10-0 record but for long periods it wasn't going his way - despite taking Silva down within 30 seconds he was unable to do any damage and from there the tide turned.
Silva intentionally cornered himself against the cage, laughing at his opponent's offence and putting his hands on his hips in a patronising manner. Brashness has always been his way but not since his 2010 win over Demian Maia has he shown such blatant disregard.
Life-changing
Weidman seemed content to stand with the champion, a foolhardy ploy at first glance. Ducking and diving with superior speed, the Brazilian was at his swaggering best in the early stages of the second round.
But Weidman was not to be put off and as Silva - hands by his waist with no intention of firing back - cockily moved backwards, the challenger missed a flurry of punches before landing a life-changing left hook. Silva's eyes rolled to the back of his head in a manner unaccustomed for UFC fans, and one more punch to the grounded legend ended the contest.
The 38-year-old's future now seems uncertain with doubts over whether he would invoke the immediate rematch promised by the UFC. Any plans for 'super-fights' with fellow icons Georges St-Pierre and Jon Jones are also on the backburner.
Elsewhere at UFC 162, Frankie Edgar earned a unanimous decision over Charles Oliveira. Tim Kennedy and Mark Munoz were also decision victors over Roger Gracie and Tim Boetsch respectively, while Cub Swanson knocked out Dennis Siver.
But the night belonged to Weidman. A new champion and owner of one of the most dramatic victories in the history of a young sport.