Breaking new ground
Rosi Sexton talks to James Dielhenn as she prepares for the first UFC women's fight to be held in Europe
By James Dielhenn
Last Updated: 15/10/13 11:10am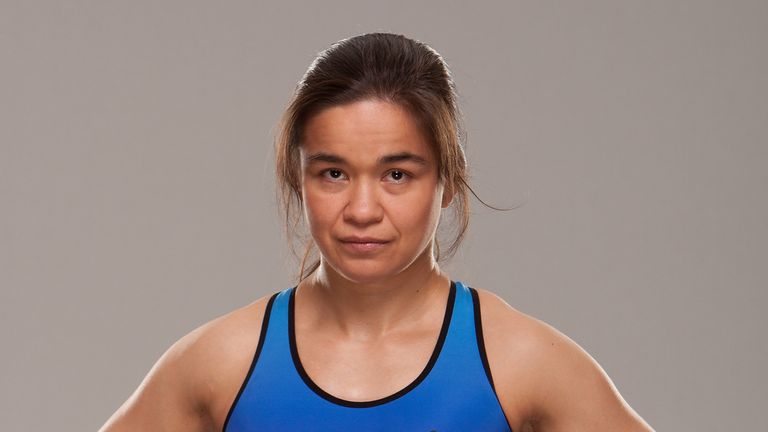 On October 26 at Fight Night in Manchester, Sexton will not only experience the biggest night of her own career but also carry the flag in a milestone fight for women's mixed martial arts.
Aware of the enormity of her upcoming fight, she told Sky Sports: "It's going to be unlike anything else. It's in my hometown, for the UFC, in the first women's fight in Europe which is a huge privilege."
But Sexton has grown used to bucking trends. Early years were spent at Cambridge and Manchester Universities achieving a first class degree in mathematics and a PhD in theoretical computer science but bizarrely these hallowed halls of education also served Sexton's inaugural years as a martial artist - hardly a hotbed of pioneering ultimate fighters.
These days she plots the breakdown of opponents simultaneously to piecing people back together during her day-job as an osteopath.
But here she is, on the verge of history, saying: "I've been in the sport longer than most, my first professional fight was in 2002. If anything, I'm just glad to be involved at this time in history.
"It's been a privilege to be part of this sport's growth. Women's MMA is going from strength to strength."
A raucous Manchester crowd was expecting to see hometown hero Michael Bisping headline the event but his withdrawal means Sexton is now the local darling.
"I'm really looking forward to being the hometown fighter. I was on the other side of it in Canada," she said, referring to UFC debut where she lost to Alexis Davis.
Her opponent in two weeks, Jessica Andrade, threatens to spoil Sexton's big night.
The 36-year-old confessed: "She's Brazilian, she's 21, I had a moment where I realised that I've been training since before she was born!"
"When I heard that she'd signed with the UFC, I did a little bit of research and checked out her previous fights. She's dangerous but I've got answers for everything.
"Having the crowd behind you will make the difference and give you an extra something if you're in a difficult position."
Everybody in Manchester will be behind Sexton but the crowd will be conspicuous by the absence of one special spectator - her eight-year-old son will not be attending his first live fight.
"I've thought about it," she pondered. "He would be absolutely fine but my concern is that he would make me nervous! The problem is, when I'm in there, I need to be 100 per cent focused on myself. I can't have in the back of my head, 'what's he thinking?'"
The first mother to compete in the Octagon continued: "Once the fight is over and everything is okay, I'll sit down and watch it with him. But I would be nervous for him watching it live. I'm not quite ready for him to do that yet."
Will Sexton have title aspirations if she is victorious? That would be too typical for the UFC's most unexpected heroine.
"The most important fight is the one that is in front of you. It's in the UFC in my hometown - whatever comes next we can talk about on October 27!"
The UFC is returning to the UK on Saturday 26th October as Lyoto Machida takes on Mark Munoz at the Phones4U Arena in Manchester. Tickets are available now from http://www.ticketmaster.co.uk/