UFC: Jimi Manuwa steps in to fight Alex Gustafsson on London's March 8 bill
Jimi Manuwa speaks to Sky Sports about his decision to take on Alex Gustafsson in London on March 8.
By James Dielhenn (@jamesdielhenn)
Last Updated: 07/11/13 11:43pm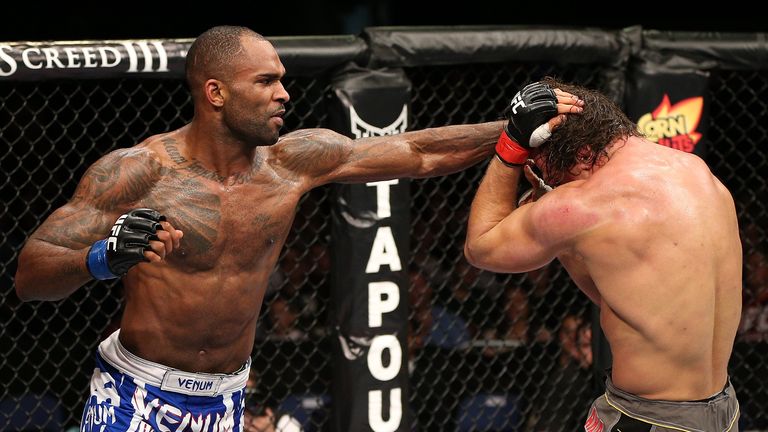 Manuwa was recently announced as the beneficiary of a vacancy in the headline fight for the UFC's London event on March 8 after Antonio Rogerio Nogueira pulled out of fighting Gustafsson but it was something he carefully considered.
"I wasn't sure about fighting him because we've trained at the same camp, I speak to him regularly and we always wish each other good luck," Manuwa told Sky Sports.
"Alex was in my dressing room in Manchester," the Croydon light-heavyweight says of the night he smashed through his 14th consecutive opponent a fortnight ago.
Manuwa, softly-spoken but with granite fists and a pristine unbeaten record, is not one to jump recklessly into openings - he rejected two UFC contracts but is now reaping the benefits of his measured approach.
The same thought process was applied when he was asked to fight Gustafsson.
He admitted: "I was shocked.
"My manager told me about it late on Thursday night. So I said I'd discuss it with my coaches in the morning and decide what to do. It's an opportunity that I couldn't miss."
The waters were muddied by their mutual respect but Manuwa's motto that 'Lions Eat First' came to the fore as he opted to prey upon the Swede's No 1 contender status.
He continued: "We know each other pretty well, we've met a couple of times. We both train at Alliance in San Diego."
Professionals
There will be no well-wishing for the next five months as Manuwa revealed he won't speak to his adversary before they fight.
He said: "No I don't think so. We're both professionals and we want to concentrate on the fight."
Gustafsson's reputation skyrocketed after he fell just short of beating the previously dominant champion Jon Jones in an all-time classic in September.
Manuwa enthused: "Other than Jones, he's the best in the world. Alex did a great job and came close.
"I see myself as up-and-coming, my record speaks for itself. I may not have fought the best on paper but I've destroyed everyone in front of me. I'm up there with the best."
The 33-year-old usually saves his roar for inside the cage but the idea of gold around his waist stirs the Lion's Pride gym owner's spirit.
"I will be the first Brit to win a UFC belt. I've been saying that since I started training.
"I'm fighting Alex next and if I beat him I'm one or two fights away from the belt.
"Last time I fought in Wembley it was great. Manchester was crazy. I'm thinking that London will raise the roof.
"Nothing can stop me. I always said I'll be the first British champion."
Just like the metaphorical lion that Manuwa refers to himself as, he rushes into nothing, preferring a calculated approach. He does things in his own time and he feels that his time is approaching.